Willis stars in final WSU spring scrimmage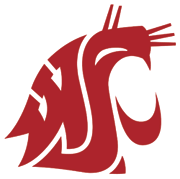 PULLMAN, Wash. - Redshirt junior Michael Willis hauled in six receptions for 129 yards and a touchdown in the Cougars' final scrimmage of the spring at Martin Stadium Saturday.
Willis was one of 13 receivers to catch passes from Cougar quarterbacks, as WSU signal callers combined to complete 29-of-45 passes for 350 yards and three touchdowns. For the second-consecutive scrimmage, WSU quarterbacks went without throwing an interception.
Redshirt senior Gary Rogers went 12-of-19 for 126 yards and two touchdowns. Rogers threw scoring strikes to senior tight end Devin Frischknecht (one yard) and Willis (13 yards). Redshirt junior Kevin Lopina completed 10-of-15 passes for 154 yards, also rushing six yards for a touchdown. Redshirt junior Cole Morgan went 6-of-8 for 58 yards and threw a five-yard touchdown to redshirt junior wide receiver Reid McEllrath. Marshall Lobbestael, a redshirt freshman, completed 1-of-3 passes for 12 yards.
Willis was one of seven receivers to catch multiple passes. McEllrath caught five passes for 65 yards, while redshirt junior Corey Williams and senior Benny Ward each caught three passes, and Frischknecht, freshman Michael Meines and redshirt freshman running back Joe Campbell each caught two passes.
Leading the ground attack was redshirt freshman Logwone Mitz, who rushed six times for 41 yards. Redshirt junior Jace Perry rushed for 42 yards on three carries, highlighted by the longest play of the day, a 46-yard rush.
On the defensive side of the ball, sophomore safety Chima Nwachukwu, redshirt sophomore linebacker Andrew Kreutz and redshirt senior defensive tackle Adam Hineline each registered one sack.
Sophomore Wade Penner led a trio of kickers, connecting on 4-of-5 field goals, including two from 50 yards.
WSU FOOTBALL SCRIMMAGE
April 12, 2008
Rushing - Perry 3/42, Mitz 6/41, Campbell 5/30, Ivory 4/29, Morgan 2/10, Richmond 3/9, Lopina 4/3 (TD), Lobbestael 2/-5.
Passing - Rogers 12/19/0/126/2/34, Lopina 10/15/0/154/0/37, Morgan 6/8/0/58/1/20, Lobbestael 1/3/0/12/0/12.
Receiving - Willis 6/129 (TD), McEllrath 5/65 (TD), Williams 3/35, Meines 2/35, Ward 3/21, Frischknecht 2/17 (TD), Johnson 1/12, Campbell 2/11, Thompson 1/9, Richmond 1/7, Blackledge 1/6, Mitz 1/6, Walker 1/-1.
Scoring - Willis - 13-yard pass from Rogers, Frischknecht - 1-yard pass from Rogers, McEllrath - 5-yard pass from Morgan, Lopina - 6-yard run.

(www.wsucougars.com)