Shock beat Fever in Tri-Cities 55-51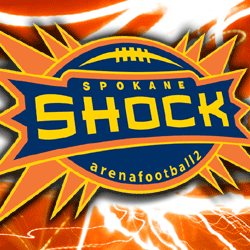 SPOKANE, Wash. - After a first half that featured three punches and three ejections, and a second half that featured more of the same, the Shock beat the Fever 55-51 in Tri-Cities Sunday.

It may have only been the third week of the season but don't tell that to the fans that witnessed the playoff atmosphere in Kennewick for the Shock's wild 55-51 victory over the Tri-Cities Fever.
Coming into the game, the Fever were winless on the season and the Shock were riding high after two wins including a blowout victory last week over the Stockton Lightning, 70-12, a team that the Fever lost to in their only game of this young season.
"Anytime you have a rivalry game you expect it to be intense," DS Sergio Gilliam said. "When you hear the word 'rivalry' you should expect it to be emotional and this game meant a whole lot."
If penalties were any indication, then this game certainly was an emotional one. Both teams combined for 23 (12 for Spokane and 11 for Tri-Cities) penalties and four ejections (two for Tri-Cities and two for Spokane). In the Shock's previous two games, they had committed only six penalties.
"The emotions got the best of some of the guys on the team and we need to clean that up," WR Raul Vijil said. "We just need to come together and focus - we're better then that."
After a see-saw battle, the Shock finally took the lead for the first time, 42-37, with 11:15 to go in the fourth quarter on a one-yard touchdown from QB Jason Murrietta that sealed a 45-yard six play drive. Murrietta ended the game with a season best 236 passing yards and five touchdowns.
The key touchdown that sealed the victory for the Shock came late in the 4th quarter from Gilliam who already has 7 interceptions in this young season. With only :24 seconds left, and the Fever within striking distance, Gilliam returned an interception off of Fever QB Jason Campbell 30-yards for the final Shock touchdown of the night.
"He really did a great job tonight and he made a big play when we needed it," Shackleford said. "Someone had to make it. Everyone out there is capable of making it (a big play) but he just stepped up and if he continues to do the right things he will be a very special player in the AFL next year," Shackleford said.

(www.spokaneshock.com)