Chiefs Advance to Western Conference finals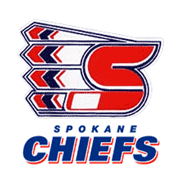 SPOKANE, Wash. - The Spokane Chiefs advanced to the Western Conference Finals after defeating the Vancouver Giants 3-1 on Monday night in game six of their best-of-seven series. Spokane will play the Tri-City Americans for the right to advance to the WHL Championship Finals in a series that will begin in Kennewick on Friday, April 18
th
. Game two will be played on Sunday, April 20
th
at 5:00.
Tickets for Spokane's first two home games of the series, which have yet to be determined, will go on sale at the Chiefs office on Tuesday morning at 9:00am.
Spokane scored the lone goal of the first period with a wrist shot by 16-year-old Jared Cowen. The defenseman's first of the playoffs was set up by Judd Blackwater and Justin McCrae, who finished with two helpers a piece. The Chiefs outshot the Giants 13-3 in the opening 20 minutes. The totals would continue to pile up as Spokane outshot Vancouver 20-4 with 14 minutes remaining the second.
Vancouver tied the score with just over a minute left in the period with a four-on-four tally by Mario Bliznak.
In the third, each team would total just four shots, but two went in for Spokane. Ondøej Roman's dart from the slot found its way in at 14:53 and Chris Bruton iced the game win an empty netter at 18:32.
Dustin Tokarski made 16 saves as Spokane held a 26-17 advantage in shots.
Spokane moves to the Western Conference finals for the first time since the 2001-02 season when they lost in five games to the Portland Winter Hawks. That season ended a stretch of three West Finals in four seasons for Spokane. The Chiefs defeated Prince George in 1999-00 and lost to Portland in 1997-98. In total, Spokane will be playing in their sixth conference final series.
The Chiefs and Americans will face-off in the playoffs for the fourth time overall. Tri-City won an epic seven game series in 1994-95 and Spokane earned victories in 1999-00 and 2001-02.
Spokane and the Amercians were 1-2 in the WHL in points, Tri-City with 108 and Spokane with 107.