Judges pick finalists for "Best Team Name" contest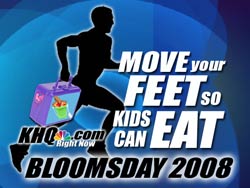 SPOKANE, Wash. - The list of team names for the upcoming Bloomsday Run once again is a creative one, with names such as "Running Our Buttresses Off" to "Bladerunners".
A panel made up of Bloomsday organizers and sponsor representatives selected 21 finalists for the "Best Team Name" award.
"Clearly, Corporate Cup entrants are putting a of thought into their team names," said Corporate Cup Char Carol Hunter in a recent news release.
She said it's getting more difficult every year for teams to select names that combine racing with the type of work their company does.
Last year's winner was Columbia Paint's "Shakin' Our Cans". Second place went to Michael R. Bell and Co.'s "Decreasing Our Bottom Line", with Gonzaga's English Departments "Suppersonnets" team taking third place.
List of 2008 Finalists:
Running Our Buttresses Off ALSC Architects
No Bean Left Behind Cravens Coffee
Water Runs, Dam It! DCI Engineers
Smooth Finishers Drywall Specialties Inc.
Do Or Diocese Episcopal Diocese of Spokane
Hard Drive to the Finish Line General Dynamics Itronix
We Got the Beat Heart Clinics Northwest
Cath Us If You Can Inland Cardiology Associates
Gotta Run, We're On Deadline The Inlander
Electricians Without Shorts K&N Electric Motors, Inc.
Running On All 4's KXLY
Flying By the Seat Of Our Patents Lee and Hayes, Intellectual Property Law
The Running Totals Moss Adams LLP
First Runner-Up Mrs. Washington Pageant
Running In Style Nordstrom
You Race, We'll Draft Northwest Engineering, Inc.
Buns 'n Burners Spokane Community College Science Dept.
Oh No...the Fast Guy's Retiring Spokane County
Snot Too Fast Spokane Ear, Nose & Throat Clinic
Foot Pursuit Spokane Police Department
Bladerunners Surgical Specialists of Spokane