Chiefs lead Tri-Cities in playoff series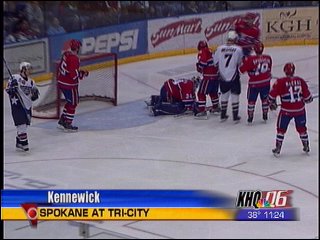 SPOKANE, Wash. - Ondrej Roman's goal 49 seconds into the second overtime gave the Spokane Chiefs a 1-0 win in game one of the Western Hockey League Western Conference finals Friday night in Kennewick. Spokane will take a 1-0 series into game two Sunday night.
Neither team scored in the first period as Spokane outshot Tri Cities 11-10 in the stanza. Both teams had one power play and failed to convert.
The second period was scoreless as well, as Tri outshot Spokane 7-6 in the period with both teams failing to score on three power play chances. Spokane killed off a 5 minute Tri City power play at the beginning of the period after defenseman Jared Cowen was given a major for elbowing and a game misconduct.
The third period remained without a score, as the Chiefs outshot the Ams 9-2, but failed to score on three power play chances.
In the first overtime, Spokane outshot Tri Cities 10-4, but neither team was again able to put the puck in the net. Spokane was 0-2 on the power play in the first OT, while Tri was 0-1.
In the second overtime, Roman would take a Judd Blackwater feed 49 seconds into the period and beat Tri City goalie Chet Pickard for his 6th goal of the playoffs. Spokane outshot Tri City 37-24 in the contest.
The Chiefs will again travel to Tri Cities for Game 2 of their series with the Americans Sunday night at 5pm. Mike Boyle will have the call on 1510 KGA beginning with Comcast Hockey Tonight at 4:30pm.
(
www.spokanechiefs.com
)