Shock in Cali to face Central Valley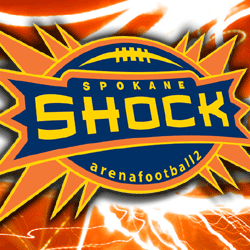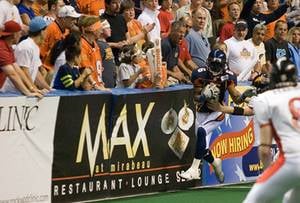 CALI. - Pac-10 fans may remember Central Valley's rookie sensation QB Joe Ayoob from his days at Cal. But fans of the af2 are quickly recognizing his talent in the indoor game. Through the first four weeks of play, Ayoob already has 18 passing touchdowns for 683 yards with only two interceptions.
Ayoob has a talented core of receivers led by fellow rookie WR Nichiren Flowers. Flowers currently leads the team 18 receptions with 257 receiving yards and seven touchdowns. Veteran WR Tonae Martin also has seven touchdowns with 13 receptions and 165 yards.
"Both Flowers and Martin are big, physical receivers; they are two of the best receivers we have seen on film all year," Shock Head Coach Adam Shackleford said. "It is imperative that we apply pressure on Joe Ayoob to limit their catches."
The task of putting pressure on Ayoob has been given to the Shock's Defensive Ends Devon Parks and Justin Warren. Last season Parks, who appeared in only six games, set the franchise-record for sacks in a season with six. In only three games, Parks is well on pace to break that record this season with three sacks already. Justin Warren, a rookie to Arena Football, is quickly developing into the defense force that Shackleford expects him to be. In two games, he has two sacks and 5.5 total tackles.
"We knew when we got Justin that he would become a great player for us, but we didn't know that he would develop this quickly," Shackleford added. Sandwiched in between Parks and Warren will be rookie DL Rod Wright, who will be making his first start in a Shock uniform. Wright, who originally enrolled at Oregon, finished his collegiate career at Grossmount Junior College. In only 13 games at Grossmount, Wright collected 65 tackles - including 45 for a loss - with 26.5 sacks.
Statistically, the Coyotes have one of the best offenses that the Shock has faced all season. The Ayoob-led offense is ranked 10th in the league in total offense (averaging 259.3 yards/game) and are ranked 4th in scoring offense (averaging 59/game). When you look at the Shock's defensive statistics, this match-up becomes all the more intriguing. The Shock's defense has given up an average of only 37 points/game; the fifth lowest total in the league. Additionally, the Shock's secondary leads the league in interceptions (12), with over half of those coming from rookie-sensation DB Sergio Gilliam. This has helped the Shock led the league in the turnover margin at plus-11.
On the other side of the ball, the Coyotes defense will be challenged by the Shock offense that is averaging 63 points/game, the second highest point total in the league. Rookie QB Jason Murrietta completed nearly 60% of his passes with 13 touchdowns and 512 passing yards. Some of these numbers may seem skued, but this only a credit to the excellent field position the Shock's defense has given Murrietta. In week three's 70-12 victory over the Stockton Lightning, the Shock's average starting field position was inside the 15-yard line. This has also helped the Murrietta-led offense to be one of the most dangerous in the red zone converting on over 86% of their opportunities, the eighth-highest percentage in the league. Central Valley's Ayoob-led offense is close behind them converting just over 84% of their opportunities, the ninth-highest percentage in the league.
Along Murrietta's side is a talented group of receivers led by 3rd-year veteran Raul Vijil. Vijil currently leads the team in receptions (19), touchdown receptions (8), and all-purpose yards (482). Rookie WR Andy Olson has been coming on strong scoring five touchdowns on the season (second on the team) including three last week against the Tri-Cities Fever. Another hot receiver for the Shock has been 2nd-year man Kelvin Dickens. Against the Fever, Dickens led the team in receptions (10), and on the season is second on the team in average yards/game (54).
Whatever happens in Saturday night's game, it will not be the last time they see each other. Central Valley will visit Spokane on June 28th. Until then, it's game time - Spokane v Central Valley, round one.

PLAYERS TO WATCH
CENTRAL VALLEY COYOTES

Joe Ayoob (QB) - In only his rookie season of Arena Football, Ayoob has already made a name for himself. So far this season, Ayoob has completed over 60% of his passes, with 18 touchdowns, and only two interceptions that has earned him 117.30 passer rating. These numbers have placed him in the top-10 in three different offensive categories league wide.

Nichiren Flowers (WR) - Another rookie in an outstanding rookie class brought in by Head Coach Fred Blitnikoff, Nichiren Flowers has numbers that compare very well to the Shock's leading receiver Raul Vijil with 18 receptions, 257 receiving yards and seven touchdowns.

Weston Borba (LB) - A veteran of arena-ball, Borba has used his experience to nab three interceptions, two pass break-ups and six tackles.

Catch all the action live on 101.1 FM starting with the pre-game show at 6:30 PM. Larry Weir and Paul Sorenson will have the call.

(www.spokaneschock.com)