WHL PLayoffs: Chiefs 4 - Tri-Cities 3 in 2OT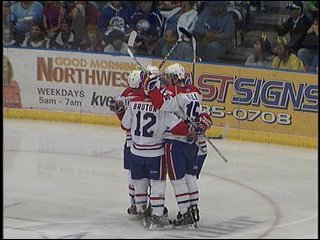 TRI CITIES, Wash. - For the fourth time in five games of their Western Conference playoff series, the Spokane Chiefs and the Tri City Americans played into overtime. For the third straight game in Tri Cities, the teams played two overtimes.

For the second time, the Chiefs came out on top, as Judd Blackwater's second goal of the game at 2:28 of the second overtime gave Spokane a 4-3 win over Tri City in game 5 of the Western Finals. Spokane now has a 3 games to 2 lead in the best of 7 series.

Blackwater would stake the Chiefs to an early 1-0 lead on his 4th goal of the playoffs just 1:06 into the game. Chris Bruton and Ondrej Roman picked up the assists. Tri Cities Drew Hoff evened the game at one at 7:24 of the period, as Tri outshot Spokane 16-3 in the period.

The Ams Jason Reese would give Tri Cities a 2-1 lead at 3:17 of the second period. Bowman would counter for Spokane with his 6th of the playoffs at 3:53 on assists from Mitch Wahl and Bruton. Bowman's second of the night, on the power play at 5:13, would give the Chiefs a 3-2 lead after two periods. Spokane outshot Tri 10-7 in the period.

Radek Meidl would tie the game at 3 for Tri at 13:10 of the third period on a net front shot as Tri outshot Spokane 34-23 through regulation.

Neither team scored in the first overtime, as Spokane outshot Tri City 12-9 in the OT. Bowman had a chance to win it for Spokane with a penalty shot with 12:09 left but missed.

Blackwater's second goal of the game came 2:28 into the second overtime on a snap shot from the left wing. Roman and Justin Falk picked up the assists on the game winner.

The Chiefs will return home for Game 6 of their series with the Americans Monday night at 7pm. Mike Boyle will have the call on 1510 KGA beginning with Comcast Hockey Tonight at 6:30pm.