Whitworth finishes 2008 with split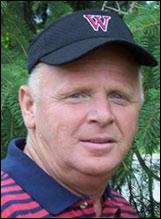 Fuzzy Buckenberger
FOREST GROVE, Ore. - Whitworth University softball head coach Fuzzy Buckenberger coached the Pirates to a doubleheader split at Pacific University on Saturday, capping his three year stint as coach of the Bucs.
Whitworth (16-21 overall, 13-12 NWC) won the opener 2-1, then fell in the nightcap 5-0 to the Boxers (29-7, 18-6).
Whitworth 2, Pacific 1
Jessie LaPlante out dueled All-NWC Pitcher Miranda McNealy and Rachel Anderson drove in both runs to give Whitworth a win in the opening game.
All of the game's scoring occurred in the fifth inning. LaPlante and McNealy traded zeros through the first four innings. The Pirates had been held to a single hit, but left a pair of runners on base in the second through the fourth inning thanks to five walks. Whitworth finally took advantage in the fifth. With two outs and the bases loaded, Anderson singled through the middle to drive in Lacey Parry and Halley Cey.
Pacific got one run back in the bottom of the inning, but with a potential tying run on third base, LaPlante induced Kristen Croxford - the Boxers' clean up hitter - to ground out. LaPlante then secured the win by pitching perfect innings in the sixth and seventh. She finished the season with a record of 8-13, allowing the single run on six hits with four strikeouts and no walks.
McNealy fell to 16-3, allowing both runs on five hits with three strikeouts and six walks.
Pacific 5, Whitworth 0
Whitworth could not muster an offense against Pacific Pitcher Andrea Bansen (13-4), who tossed a three-hit shutout.
Whitworth's best chance to score occurred in the fifth inning, when the Bucs had runners on second and third with one out. But Bansen got Parry to foul out behind third base and she struck out Morgan Thomsen.
Jessica Mangis (5-5) went the distance in the circle for Whitworth, allowing four earned runs on seven hits with five strikeouts and one walk. She had one rough inning, when she allowed four runs on four hits in the fourth.
Pacific's win keeps the Boxers along in second place in the NWC standings and keeps alive their hopes for an at-large bid to the NCAA tournament.
Buckenberger, who announced his retirement effective at the end of this season in September, finishes his three year stint leading the Pirates with a 72-41 record. In 2006 he led Whitworth to a 26-14 record, a second place finish in the NWC and the school's first ever NCAA tournament bid. In 2007 he coached the Pirates to a 30-6 record, including a 25-3 mark in the NWC. Whitworth finished only one game behind eventual national champion Linfield College in the NWC standings, but those sterling numbers were not enough to get the Pirates an at-large bid to the NCAA playoffs.
Whitworth will announce its selection for Buckenberger's replacement on Monday.