Chiefs lose to Americans in OT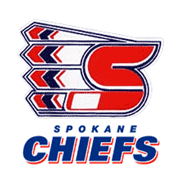 SPOKANE, Wash. - Kruise Reddick's overtime power play goal gave the Tri-City Americans a 2-1 win over the Spokane Chiefs and forced a decisive game seven on Tuesday night in Kennewick.

Spokane's Judd Blackwater scored his third goal in two games in giving the Chiefs a 1-0 lead 4:09 into the first period with a shot from the high slot. Mitch Wahl and Jared Cowen assisted on the play.

Tri-City tied it up at 18:32 of the second as Petr Stoklasa's wrist shot from the slot found the top of the net for his first goal of the post-season.

Spokane outshot the Americans 14-1 in the third period and 36-20 in the game but Chet Pickard stood up to the test with 35 saves on the night for the Americans. Reddick snapped a shot from the slot that deflected past Spokane's Dustin Tokarski for the game winner. Shaun Vey assisted on what turned out to be the Americans second power play goal of the series.

In six games of this series, the Chiefs and Americans have played into the overtime period five times. Spokane has won a pair of double overtime games with the Americans winning three times, including twice in Spokane.

Tuesday night's winner will advance to the WHL Championship series versus the Lethbridge Hurricanes.