Chiefs face Lethbridge in WHL finals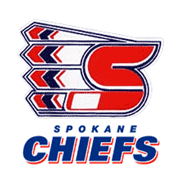 SPOKANE, Wash. - The Chiefs advanced to the Finals after defeating the Tri-City Americans in seven games during the Western Conference Championship series. Lethbridge earned a four-game sweep of the Calgary Hitmen in the Eastern Conference Championship series last week.
In a 2-3-2 format, the Hurricanes will be scheduled to host games three, four and a potential five next Tuesday, May 6th, Wednesday, May 7th and Friday, May 9th, respectively. Games six and seven would take place on Sunday, May 11th and Monday, May 12th in the Spokane Arena.
The winner of the WHL Championship series will earn the first ever Ed Chynoweth cup and a berth into the Memorial Cup tournament, the championship of the Canadian Hockey League.
The series will be a rematch of the 1991 WHL Finals when Spokane earned a four game sweep of the Hurricanes en route to their only Memorial Cup Championship. Spokane has played in two other finals making this their fourth trip to the Championship round in franchise history. Spokane dropped a five- game decision to Brandon in 1996 and a six game series to the Kootenay Ice in 2000.
In game seven of their Western Conference Finals, the Spokane Chiefs won their third game in four trips to Tri Cities as Judd Blackwater's two third period goals lifted the Spokane Chiefs to a 4-1 win over the Americans. The win advances the Chiefs to the WHL Finals versus the Lethbridge Hurricanes.
The Spokane Chiefs will host games one and two of the WHL Championship series this Friday and Saturday versus the Lethbridge Hurricanes. Tickets will go on sale at the Chiefs office on Tuesday morning at 9:00 am by calling (509) 535-PUCK or at TicketsWest at (800) 325-SEAT.