Shock win another close one against Lubbock 43-41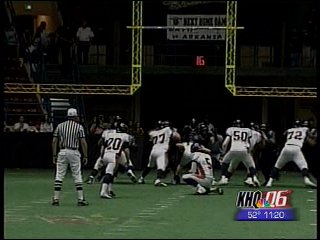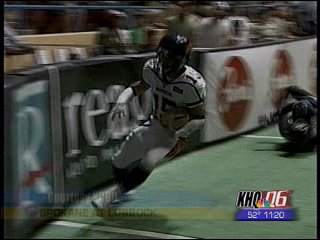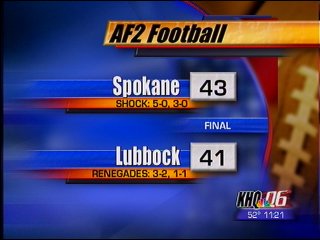 SPOKANE, Wash. - It may not have been the offensive shoot-out that fans expected, but Saturday night's 43-41 victory over the Lubbock Renegades was just as thrilling.
With the Shock down by one-point, QB Nick Davila (who relieved starting QB Jason Murrietta in the4th quarter) trotted out onto the field deep in Lubbock territory with only 49-seconds remaining in the game.
After throwing two straight incomplete passes, Davila connected on a 23-yard pass to WR Raul Vijil that put the offense back in business. With only 21-seconds left, the Shock took a quick time-out. Davila came out of the timeout and completed his next two passes to rookie WR Andy Olson. With two more incomplete passes this set-up a 21-yard field goal attempt for Brian Jackson with five-seconds remaining. Jackson, who missed only his second PAT of the season earlier in the game, nailed the 21-yard field goal for the game winner.
"You know it a close game when you guys (media members) talk to the kicker first after the game," Head Coach Adam Shackleford said in the AT&T post-game report. "5-0 feels good, but we have a long way to go."
After jumping out to an early 33-21 first half led, the momentum began to shift towards the Renegades in the second half. The only two third quarter possessions for the Shock's offense resulted in turnovers - one off of a Andy Olson fumble and the other off of a turn- over on downs.
Shackleford said that his team needed a spark and he found that spark in back-up QB Nick Davila who started the 4th Quarter. Davila marched the Shock down the field for a four play 45-yard drive that was capped off by a nine-yard touchdown reception by Vijil, his fourth of the game.
In addition to his four touchdowns, Vijil also led the team with nine receptions and 245 all-purpose yards. Vijil was also awarded as the Schutt's Offensive Player of the Game and the Cutter's Catch of the game.
"The mark of a good team is finding a way to get it done," Shackleford said. "Even though it was ugly, it was still a great team win."
What the Shock's offense lacked, the defense certainly seemed to make-up for on key possessions. Coming into the game, Lubbock had the top-rated redzone offense (13/13, 13 touchdowns), but the stingy Shock defense allowed only four scores inside the redzone.
The road-weary Shock will return home next week to host the Boise Burn. The end of this road trip couldn't have come any sooner according to Jackson.
"It's going to be awesome to go back to those 10,600 Shock fans with a 5-0 record," Jackson said. "I can't wait."
NOTES: Sergio Gilliam came up with his eighth interception of the season after only five games. Rob Keefe currently holds the single-season club record with 10...QB Jason Murrietta ended the night going 12/24 for 168 yards and two touchdown passes while Nick Davila also completed 50% of his passes for 87 with one touchdown. Neither QB threw an interception...LB Lee Foliaki, DB Tremaine Tyler and Kevin McCullough all led the team with six tackles...DL Harrison Nikolao recorded the only (official) sack of the game for a 12-yard loss that ended the first half of play...Coming into tonight's game, the Renegades were the most penalized team in the af2. Saturday night, they added 14 to their league-leading total of 47 penalties.

(www.spokanechiefs.com)