The Joy of Traveling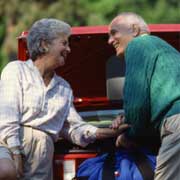 Sometimes the most overwhelming part of planning a trip is deciding where to go. Should I relax at the beach, cruise, or hit the rails? Should I tour Rome, Paris, Barcelona, or Victoria? What about cruising the wide-open seas on a world cruise, a sea yacht, river-barge, or cruise Alaska? That is why Katie Shaler at The Deer Park Travel Agency has joined KHQ Senior Life page. To help you, the seniors, plan every detail of your vacation the way it was meant to be fun, relaxing, stress-free, and memorable.
At The Deer Park Travel Agency we cater to the needs of mature travelers and design your trips to include just as many, if not more, destinations and sights than mainstream travel companies, we keep the itinerary at an enjoyable pace, and the price affordable. As your local travel agent, Katie Shaler, will be there, working for you and planning every step of your vacation.
One of our favorite options for anyone, but especially senior travelers is a cruise. Cruising is ideal for so many reasons. No cramped tiny airplane seats or stale peanuts. Cruising is an all-inclusive vacation; meaning world-class food prepared 24 hours a day. There is a cruise for all most every budget, time frame, and time of year. Cruising is also a hassle-free relaxing vacation where you only need to pack and unpack once, but you usually visit multiple locations. There is also a wide range of activities from movies to shows to gambling, not to mention the shore excursions we can help plan. With more than 150 ships cruising to 1800 plus ports of destinations, the most stressful part of cruising just might be choosing the perfect cruise for you.
That is why Katie Shaler at The Deer Park Travel Agency invites you to contact her at 509-276-2065 or mailto:katie@thedeerparktravelagency.com for all of your cruise and vacation options today! Whether it is a last-minute cruise or a family reunion cruise planned a year in advance, a cruise for one or a cruise for sixty, she will help you choose the perfect cruise, cabin, and destination to fit your budget.