Shock stay perfect with win over Wranglers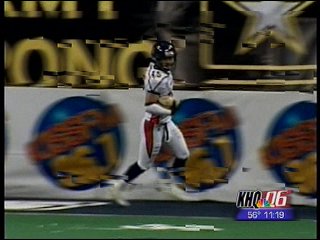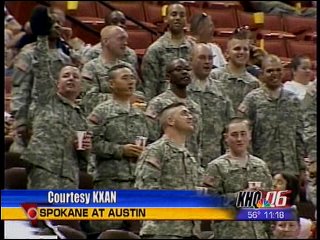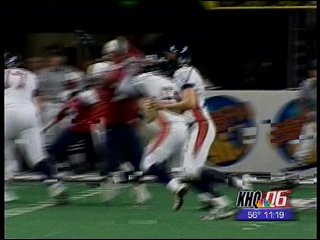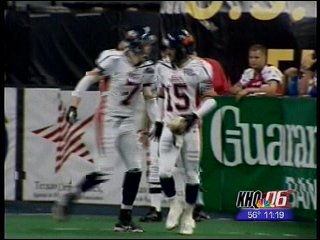 SPOKANE, Wash. - The Spokane Shock continued to roll through the 2008 regular season with a 62-42 victory Saturday night over the Austin Wranglers to wrap up the first half of the season with a perfect record.
Despite the 59-56 win last week over the Tri-Cities Fever, members of the Shock defense were still disappointed in their play and vowed to right their wrongs this week against the Wranglers. True to their word, the Shock's defense came up with three interceptions, four sacks, and one forced fumble.
After the Shock's offense sputtered on the first drive and turn the ball over on downs, LB Kevin McCullough came up with a crucial interception that he ran in for a 26-yard touchdown to even the score at 7-7 early in the first quarter.
After a shaky start on the first drive, QB Nick Davila got right back on track and finished the game with seven touchdowns - for the third straight week - with 235 yards and only one interception, his first of the season. Davila led a balanced offensive attack with all three starting receivers scoring touchdowns (WR Raul Vijil with three, WR Patrick Bugg with three, and one for WR Andy Olson.) Bugg certainly impressed Head Coach Adam Shackleford with first start of the season as he hauled in six receptions for 93 yards, in addition to his three touchdowns.
"Patrick played a great game tonight," Head Coach Adam Shackleford said. "We have a deep receiving core and he has patiently waited his turn for a game like he had tonight. This was a quality win for us against a quality opponent."
QB Andy Hall who, despite throwing three interceptions, had five touchdowns passes and over 300 yards passing led the Wrangler's offense. Hall ran most of his offense through WR Sean Henley and John Roberson who combined for 23 receptions (13 for Henley and 10 for Roberson) and four touchdowns.
In face of this success, Hall still struggled under the relentless pressure of the Shock defensive line that came up with four sacks and two QB hurries.
The Shock return home next week to host the Stockton Lightning for the second meeting of the season. Last time the teams met, on April 5th, the Shock defeated the Lightning, 70-12 and so revenge will surely be on Stockton's mind. Game time has been pushed back to an 8 PM kick-off due to KHQ's coverage of the Stanley Cup Finals. Plenty of tickets are still available and can be purchased by contacting TicketsWest.
RECORDS MEANT TO BE BROKEN
: DB Sergio Gilliam had two interceptions tonight and tied DB Rob Keefe's record for most interceptions in a season that he set in 2006 with 10. LB Kevin McCullough scored his fourth touchdown of the season and needs only two more to break LB Kelvin Morris' record for most touchdowns scored in a season by a defensive player. DL Devon Parks added three sacks to his franchise record of most sacks in a single season. He now has 9.5 for the season...
THAT'S A NO-NO
: The Shock committed 15 penalties tonight, their highest total of the season.
HOME COOKING
: DL Jason Jack, a Houston-native, scored his first TD of the season and was named the JLS Ironman of the Game.
(
www.spokaneshock.com
)