Shock move into first spot in AF2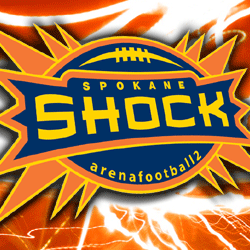 CHICAGO - Spokane stayed perfect in 2008 at 9-0 after holding off Stockton this past Saturday at Spokane Arena, 52-42. The Shock are the only remaining unbeaten team in the af2.

The defending ArenaCup Champion Tulsa Talons, who owned the pole position for the past 10 weeks, dropped into a tie at No. 2 after losing their first game of the season last Saturday at Bossier-Shreveport, 52-45. The loss also snapped the Talons' 16-game win streak, which included eight in a row from last season. Tulsa's run of 16 straight wins ranks as the third longest in league history.

The Talons (8-1, 389 points, 1 first place vote) host No. 5 Lubbock this Saturday at the Tulsa Convention Center. The Florida Firecats (8-1, 389 points) improved two places from No. 4 to No. 2 (tie with Tulsa) on the strength of the squad's 41-15 home win against new in-state and South Division rival Daytona Beach. Wilkes-Barre/Scranton (7-2, 369 points, 1 first place vote) dropped one spot to No. 4 after the Pioneers' 70-63 road loss at East Division foe Manchester. The Renegades (7-2, 331 points) round out the Top-5 this week after earning a 48-20 home win against Rio Grande Valley.

The complete Top 16 is listed below. The number in parentheses indicates the number of first place votes the team received.


WEEK 11 TOP 16
| | | |
| --- | --- | --- |
| RANK | TEAM | PTS |
| 1 | Spokane | 447 (27) |
| 2 | Tulsa | 389 (1) |
| 2 | Florida | 389 |
| 4 | W-B/Scranton | 369 (1) |
| 5 | Lubbock | 331 |
| 6 | Tennessee Valley | 304 |
| 7 | Green Bay | 273 |
| 8 | Louisville | 262 |
| 9 | Lexington | 224 |
| 10 | Boise | 177 |
| 11 | South Georgia | 176 |
| 12 | Arkansas | 157 |
| 13 | Central Valley | 96 |
| 14 | Bossier-Shreveport | 89 |
| 15 | Austin | 68 |
| 16 | Corpus Christi | 59 |