Awarding Exceptional Work and Design: Rock Cut Bridge
Posted:
Updated:
Rock Cut Bridge
Rock Cut Bridge between Stevens and Ferry Counties in Northeast Washington over the Kettle River has won 2 awards.
The first was in the category of "Spans Longer Than 150 Ft.".
The second was the "Harry Edwards Industry Advancement Award", which is very prestigious as it represents the project deemed by the Awards Jury that year that did the most to advance the precast/prestressed concrete industry.
The bridge achieved a 190.5' clear span by being built in 3 segments, then being post-tensioned back together at the jobsite to create long girders as if it had never been made in pieces.
After it was post-tensioned back together, it was moved into place with a girder launcher. As a "meat and potatoes" bridge that lent itself to be made in pieces, this project eliminated a costly high maintenance pier in the river. It showed that the technology of building this type bridge in pieces small enough to ship, then reassembling with a girder launcher, is a practical and cost-effective method to achieve these goals.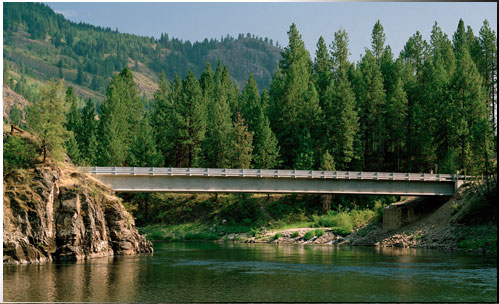 Rock Cut Bridge over the Kettle River on the Stevens-Ferry County line in eastern Washington