Rangers assign top prospects to Spokane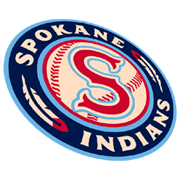 SPOKANE, WA - The Texas Rangers have assigned 25 players to Spokane for the 2008 season. Two top draft picks from the 2007 MLB Draft and nine draft picks from the 2008 MLB Draft will head to Spokane. In addition, three Spokane Indians from the 2007 season will return to play for the Indians this summer.
Right-handed pitcher Neil Ramirez, a first round compensation pick of the Rangers in 2007, will make his minor league debut for the Indians this season. Infielder Matt West, a second round draft pick in 2007, was also assigned to the Indians roster.
High round prospects from this years draft have also been assigned to Spokane. Left-handed pitcher Richard Bleier, who just completed his junior season at Florida Gulf Coast University, was drafted by the Rangers in the 6th round. 9th round pick Jared Bolden (OF), 11th round pick Clifford Springston (LHP), 13th round pick Edward Koncel (INF) and 15th round pick Joseph Butler (OF) have all been assigned to the Indians.
Outfielders Tim Rodriguez, Eric Fry and Kyle Murphy will return for their second season with the Indians. The three combined for a total of 80 games played last season.
The Rangers will assign additional players to the Indians in the next few days as they are signed to professional contracts.
Spokane kicks off it's 2008 season with Opening Night Fireworks & AAA Magnet Schedule Giveaway on June 17th at 6:30 p.m.