Shock top coaches poll again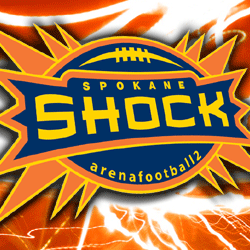 CHICAGO - The Spokane Shock have maintained their No. 1 ranking in the Week 13 Coaches Poll in the arenafootball2 league. The Shock collected 447 of 448 points possible, and 28-of-29 first place votes, securing the top position for the third consecutive week.

Spokane stayed perfect in 2008 at 11-0 after an impressive 21-point win at Tri-Cities this past Saturday, 54-33. The victory also clinched a spot in the postseason for the Shock. Spokane has qualified for the ArenaCup playoffs in all three seasons of the team's existence.
The defending ArenaCup Champion Tulsa Talons (10-1, 407 points, 1 first place votes) maintained the No. 2 position this week on the strength of a 48-31 home win against Iowa.

Green Bay is a new entry into the Top-5 this week. The Blizzard (8-3, 329 points), winners of three consecutive contests, improved two positions from No. 6 to No. 4 on the strength of a 34-31 road win at Midwest Division foe Louisville. Florida (8-3, 325 points) slipped one spot to No. 5 after losing at South Division rival South Georgia, 42-32.
The complete Top 16 is listed below. (The number of first place votes the team received.)
WEEK 13 TOP 16
| | | |
| --- | --- | --- |
| RANK | TEAM | PTS |
| 1 | Spokane | 447 (28) |
| 2 | Tulsa | 407 (1) |
| 3 | W-B/Scranton | 381 |
| 4 | Green Bay | 329 |
| 5 | Florida | 325 |
| 6 | Tennessee Valley | 292 |
| 7 | South Georgia | 282 |
| 8 | Arkansas | 259 |
| 9 | Lubbock | 222 |
| 10 | Lexington | 210 |
| 11 | Louisville | 179 |
| 12 | Central Valley | 145 |
| 13 | Austin | 142 |
| 14 | Quad City | 76 |
| 15 | Manchester | 75 |
| 16 | Corpus Christi | 53 |