Chiefs will be eyeing NHL draft this weekend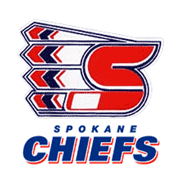 SPOKANE, Wash. - In what has already been a summer filled with achievement a few members of the Spokane Chiefs hope to continue the trend with the NHL's Entry Draft this weekend.
By playing out the string and winning the Memorial Cup conventional wisdom would say it helped the stock of eligible Chiefs.
"I can't control anything anymore," Forward Mitch Wahl said with a sense of finality. Wahl played 92 combined games between the regular season and playoffs.
The Seal Beach, California native led the Chiefs in assists during the regular season with 53 and, after slipping a bit in the ranking, was named to the Memorial Cup's All-Star team after scoring two goals and six points in four games.
"I did what I could, did my best and now whatever happens this weekend happens." Wahl is rated 64th for North American skaters by NHL's Central Scouting.
Goaltender Dustin Tokarski should also see the fruit of his labor. The Watson, Saskatchewan native finished third in the WHL's regular season with a 2.05 goals against average, a team record, and was named the MVP of both the Western Conference Finals and Memorial Cup.
"I knew coming into the year that I would have to have a great season to get drafted," the 18-year-old said. "I think I got better as the year went on.
"Now that the year is over and we took care of business, I focused on (Team Canada's Goaltender) camp and have had a good week of working out; I'm really looking forward to this weekend," Tokarski said.
In Central Scouting's final North American Goaltender ranking Tokarski was rated ninth overall, "Getting drafted is one step and I know I have to work harder to get to the next level."
Defensemen Mike Reddington, 187th, and Jared Spurgeon, 198th, were also recognized by Central Scouting for North American Skaters. Reddington, a stay-at-home blueliner, has played 166 games over the past two seasons and led Spokane with 102 penalty minutes this season. Spurgeon, the Chiefs Defenseman of the Year, led the club in points by a defenseman with 12 goals and 43 points.
Spokane native Tyler Johnson, the Finals MVP and leading rookie scorer for the Chiefs, is also eligible after his first year in the WHL.
(Round one of the NHL Entry Draft in Ottawa, Ontario will take place on Friday, June 20th with the first selection coming shortly after 4:00 and will be televised live on Versus. Rounds two through seven will be on Saturday, June 21st. The Tampa Bay Lightning hold the first pick overall.)