Wildcats end Shocks' perfect season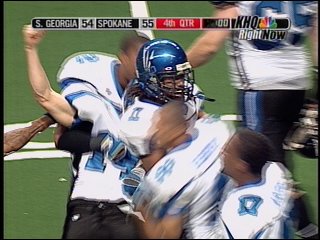 SPOKANE, Wash. - The South Georgia Wildcats ended the Shocks' perfect season Saturday, winning 57-55 on a game-winning field goal as the final three seconds ticked off the clock.
It's been said that all good things must come to an end, and he South Georgia Wildcats snapped the Shock's 11- game winning streak with a 55-57 win. Before Saturday night's loss the #1-ranked Shock were the only undefeated team in the af2.
On their fifth and final drive of the game, QB Andrico Hines and the Wildcats started from their own 17-yard line. With only 2:02 left in the game, the Wildcats were down by only one-point. Hines started the drive with a swing pass to his leading receiver PJ Berry (9 receptions with 193 all-purpose yards) for a 3-yard gain. His next two passes fell incomplete but on third down Hines and Berry connected for a 28-yard pass that proved to be the back-breaker. This set-up the game-winning field goal attempt for South Georgia's K Scott Hode. Despite a botched-snap, Hode converted on the 20-yard field goal attempt as time expired for a two-point victory.
"Hopefully, this is a wake-up call for our guys," Head Coach Adam Shackleford said. "Coach Stingley (South Georgia's Head Coach) got us tonight he did a good job. If we learn from it, that's what we'll take from it."
The game also marked the return of former Shock players WR Antwone Savage and Hines. For Savage's part, he made the most of his receptions with three - all of which were for touchdowns. Hines, who had 40 touchdowns coming into the game, added five more to his season total with 216 yards passing.
"We knew that because they (Savage and Hines) were on that team they were going to be good," Shackleford explained. "Certainly, I'm upset by the way we played: special teams were a let down tonight, defensively we need to get more stops and offensively we had two or three drives where we just looked real bad."
The Shock's QB Nick Davila matched Hines numbers with 5 touchdowns of his own for 272 passing yards without an interception. WR Raul Vijil and Andy Olson were the lone bright spots from Davila's receiving core that combined for 19 receptions (10 for Vijil and 8 for Olson) and three touchdowns (two for Olson and one for Vijil).
Defensively, the Shock recorded two interceptions off of Hines - one for LB Kevin McCullough and one DB Roshawn Marshall.
The Shock return home next week as they host the Central Valley Coyotes. Tickets are still available and can be purchased by contacting TicketsWest.