Three Chiefs drafted to NHL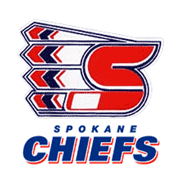 SPOKANE, Wash. - Three Spokane Chiefs were selected in this weekend's NHL Entry Draft, including forward Mitch Wahl who was taken with the Calgary Flames second round pick, 48th overall. Goaltender Dustin Tokarski was selected by the Tampa Bay Lightning with the first pick in the fifth round, 122nd overall, and Jared Spurgeon was drafted by the New York Islanders in the sixth round, 156th overall.
"I didn't know what to expect coming into today," Wahl said. "I had a good interview with Calgary and I think it will be a good fit for me."
As a 17-year-old, Wahl was second on the Chiefs in scoring and led the team with 53 assists, seventh in the WHL. He also finished +33, tied for fifth in the league. After scoring two goals and four assists in four Memorial Cup games, the Seal Beach, California native was named to the tournament All-Star team.
"He is a playmaker first but he might be able to score 15 or 20 goals at the NHL level," said Flames Director of Scouting Tod Button.
Tokarski leveraged his franchise record breaking season and playoff MVP status to catch the eye of a former Spokane Flyer and new owner of the Tampa Bay Lightning, Oren Koules.
"It was a pretty short phone call but they told me 'welcome aboard and we love your competitiveness," Tokarski said about his discussions with the Lightning brass. Koules, now a movie producer and recently approved owner of the Lightning, played for the Flyers in 1980-81.
The Memorial Cup MVP set a franchise record with a 2.05 goals against average and had an 11 game win streak this season, also a Chiefs benchmark.
The Watson, Saskatchewan native said all along, "it would be an honor to be selected anywhere in the draft, even if I was the last pick. Just to be selected is a dream for any kid and I am fortunate and really excited.
"This is just one step. We all need to show the same work ethic that got us here to get us to the next level"
Spurgeon echoed Tokarski's sentiments, "I was hoping I was going to get drafted but, because of all the amazing talent this year, knew it would be later. It is a dream come true," the Edmonton, Alberta product said.
"I'm happy the Islanders are giving me a chance to fulfill my dream and now I just need to work hard and make them proud."
Spurgeon was named the Chiefs Defenseman of the Year after leading all blueliners in scoring with 12 goals, 43 points and finished third in the WHL with a +36.
Going from the beach to central Alberta seems to get Wahl excited, "Its hockey country. They get 20,000 fans a game and people worship the Flames. We get to play in the Saddledome, a great hockey environment, and I can't wait to get to work and try to crack their lineup in the next few years," he said.
While Wahl attended the event and was able to watch it unfold, Tokarski wanted no business in waiting to hear his name. At home in Saskatchewan, the two-year veteran watched the first three rounds on-line and then..."I went golfing. I got too nervous. I only played about six holes and then got a call from my agent."
Since then, he's "been on the phone non-stop today."