Game-winning kick helps Shock clinch division title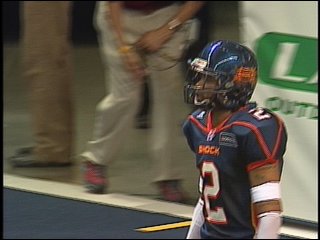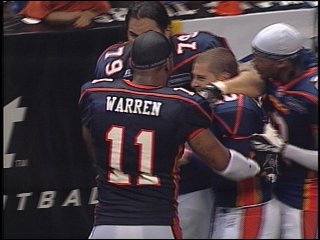 SPOKANE, Wash. - For the third consecutive season, the Spokane Shock have won the Western Division title after defeating the Central Valley Coyotes Saturday night, 56-54, thanks to K Brian Jackson.

With only :05 seconds left, Head Coach Adam Shackleford put the weight of the Division title on the 5-7 185 pound Jackson. Back-up QB Jason Murrietta placed the ball perfectly and Jackson nailed the 31-yard game winning field goal as the clock expired. Jackson, who had already missed two point-after attempts earlier in the game, called it in an "angry kick."
"I knew that I had to make that field goal to get the respect back from my teammates," Jackson explained. "It was the highlight of my career."
Jackson's game winning field-goal was set up after Central Valley's QB Clay Groefsma connected with his leading receiver Jason Barnes (12 receptions, 165 yards and three touchdowns) for a 10-yard TD pass with only: 16 left. Coyotes Head Coach Fred Biletnikoff elected to go for the win with a two-point conversion.
Once again, Groefsma connected with Barnes to put the Coyotes ahead by one point. "Central Valley is such a good football team we knew it would come down to the end," Shock Head Coach Adam Shackleford explained.
"Brian Jackson has been our guy all year...he made a big one for us tonight."
Offensively, Shock QB Nick Davila shined as he contributed eight total touchdowns (six through the air, and two on the ground) including a four-yard QB sneak that kept the Shock's hope alive with only 44 seconds left in the game. Davila's performance topped all of his previous career-best numbers including pass attempts (50); pass completions (34), and passing yards (367).
On the defensive side of the ball, rookie LB Lee Foliaki (recovered two fumbles) and DB Sergio Gilliam (one interception) combined for three crucial Central Valley turnovers. Gilliam's interception firmly planted the rookie's name in the af2 record book as he tied the league record for most interceptions in a season with 15.
The Shock have a bye next week and will return to action on July 12th in Stockton, CA against the Lightning. In other af2 news, the Tulsa Talons lost tonight leaving the Shock as the only team with one-loss.
(www.spokaneshock.com)