Indians beat Tri-City 7-5; both tied for first place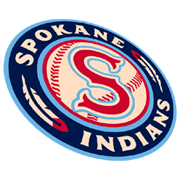 SPOKANE, WA - The Spokane Indians got off to a rocky start, but finished strong down the stretch and beat the Tri-City Dust Devils 7-5 Saturday night at Avista Stadium. With the win the Indians are in a tie with Tri-City for first place in the Northwest League East Division.
The Indians got in a hole early, committing three errors and allowing four runs in the first two innings. Unfazed, Spokane responded and scored in the bottom of the 2nd, 3rd, and 4th innings to jump to a 7-4 lead.
The Fireworks continued after the game with an incredible, extended real fireworks show presented by The Spokesman-Review in honor of their 125th Anniversary.
Indians starter Martin Perez lasted only two innings. Fielding errors led to the four hits and four runs he gave up, only one run was earned by Perez. Tim Murphy, the third round pick of the Texas Rangers this year, picked up his first professional win. He went three innings, allowing only one hit and struck out three. Trevor Hurley picked up his first save of the season.
Outfielder Tim Rodriguez finished 2 for 4 on the night with three RBI. Rodriguez also had a double, which contributed to the five doubles the Indians hit tonight. Outfielder Joey Butler continued his hitting hot streak, finishing the night 2 for 3 with a double. Butler is now batting .481 on the season.
The Indians return to Avista Stadium tomorrow for the series finale of the three game homestand against Tri-City. Tomorrow night is Kids Manage the Ballpark Night, presented by WA Oral Health, ESPN 700 the Ticket and KXLY NewsRadio 920 AM.