Shock beat Quad City, claim best league record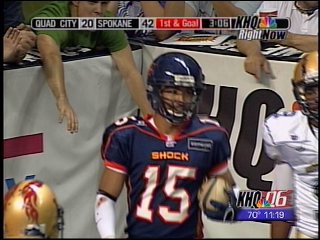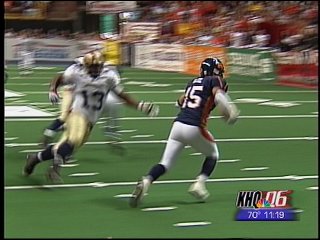 SPOKANE, Wash. - Head Coach Adam Shackleford reminded his team all week about the importance of Saturday's game. Apparently, his message got through loud and clear as the Shock defeated the Quad City Steamwheelers Saturday night, 78-51.

The victory gives the Shock the best record in the league (14-1) and assures them home-field advantage throughout the single elimination playoffs that begin the first week of August.

Shackleford's offense was led by QB Nick Davila who accounted for 10 touchdowns (seven passing with three rushing) 215 yards and completed 70% of his passes. Davila's seven touchdown passes brought his season total to 63; a new Shock record for total passing touchdowns in a career.

"Nick played a complete game tonight - he made smart decisions and stayed within the game plan," Shackleford explained.

Davila spread the offensive wealth around with WR Raul Vijil leading all Shock receivers in receptions (6), receiving yards (89) and receiving touchdowns (4). WR Kelvin Dickens collected five receptions of his own and added a 5-yard touchdown reception.

The Shock also got some offensive production out of OL Kyle Young, who had two receptions for 16 yards. Young's second reception of the game was a five yard TD pass from Davila that was his first touchdown of his career. Young's touchdown reception gave the Shock their 72nd point and broke their old record for most points scored in a game set on April 5th, 2008.

Many of Spokane's offensive opportunities were afforded by the improved play of the Shock's special teams. WR Etu Molden recovered two of K Brian Jackson's on-side kick attempts while DL Justin Warren and DB Sergio Gilliam each recovered a kick return of their own. Vijil also added a special teams touchdown when he returned Quad City's kick-off 58 yards half-way through the 3rd Quarter.

"Everyone stepped up today: Brian Jackson stepped up on special teams, we got a safety, and a couple big kick returns - it was an awesome day." Vijil explained. "We are starting to click on all cylinders; it's exactly what we want rolling into the playoffs."

Next week the Shock will host the Boise Burn to close out the regular season before entering into the playoffs on August 2nd.