From Katie Shaler: Deer Park Travel Agency
Travel Tip: Cost Saving on Air Travel
Posted:
Updated: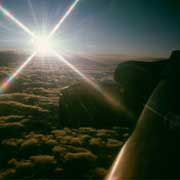 There is no question about it. This day in age if you are traveling than you are probably going to have a budget set, chances are you are also going to be flying. At The Deer Park Travel Agency we will work to find you that great vacation no matter what your budget is. A major expense that we keep hearing about is airfare prices. Believe me when I say you are not alone! Six months ago I paid a little over $400 per person for a ticket to Minnesota in August, today that non-stop ticket is $555! With a family of four I am also asking when are these prices going to stop climbing! Last year the same ticket was only $250 per person. I do have a few tips that may help us all out!
We can cut that air expense by considering travel between the winter months of mid-October to April. For me, Minnesota in the winter months would mean missing the yearly family reunion in August. But airfare can be cut in half, or more, if you travel this time of year. Now is the perfect time to start looking at vacation's for the upcoming winter months, especially in Europe!
Another tip, book at least six months in advance and pay early to get low-priced promotional airfare. If your time is flexible, and you enjoy taking chances, you can always what until the last minute and see what price you can get. You are gambling though and most times airfare will be more than six months earlier.
Finally book as a vacation package. I know it sounds strange but if you start booking your airfare in one place, your hotel in another, and the rental car in a third, you are paying taxes and fees on each item. In the long run, you could end up paying hundreds of dollars more than if you booked your vacation in one place and as a vacation package. As a vacation package you usually get some sort of discount.
I hope you all enjoy the rest of the summer and I look forward to working with you on your winter vacations, family reunions at sea, romantic getaways, or any of your other vacation needs. Give Katie Shaler a call at 509-276-2065 or send her an email at Katie@thedeerparktravelagency.com. We also invite you to visit our website at www.thedeerparktravelagency.com. Here you can sign up for our monthly newsletter that will keep you up to date on any vacation deals. Enjoy the month of August!
.