Shock move past Wranglers in playoffs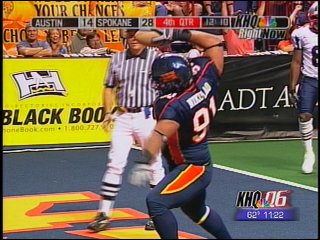 As the top-seed in the Conference, the Shock are coming off of their best regular season in the franchise's short three-year history.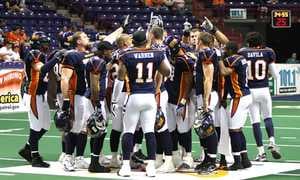 SPOKANE, Wash. - The Spokane Shock are moving to the second round of the ArenaCup playoffs. They turned it on in the second half, building on a 7-point halftime lead to beat the Austin Wranglers 42-14 at the Spokane Arena.
Only giving up 7 points in the first half, the Shock held what Coach Shackleford called "an ugly lead," leading 14-7 at halftime. But a "spicy" halftime talk gave the Shock what they needed to come flying out of the gates in the third quarter.
"We just talked about what this game meant; if we lost this thing we were going home and it was over," Shackleford said. "That first quarter reminded me a lot of last year's game (a first round loss to Louisville) but this team is different; they responded."

Spokane responded on their first drive of the second half with a 5-yard touchdown reception by Raul Vijil that capped off a 4 play 40-yard scoring drive. Vijil, who was selected as the Schutts Offensive Player of the Game, lead the team in receptions (10) and yardage (151 all-purpose).

"First drive of the third quarter we definitely needed to score," Vijil said. "I think some of the guys just came out a little too pumped up but we settled down and refocused in the second half."

It was Spokane's defense that kept them in the game, limiting Austin's QB Andy Hall to 153 yards total yards despite averaging 274.5 yards/game during the regular season. Hall, who was under pressure all night long, threw two interceptions that landed in the hands of DB Sergio Gilliam. Austin's leading receiver John Roberson was limited to only four total receptions for 43 yards without a touchdown. WR Sean Henley and Mel Long led the Wranglers offensive attack with seven receptions a piece (that led the team) and a combined 100 yards receiving.

Spokane's QB, on the other hand, Nick Davila threw for 272 passing yards, 46.2 yards above his regular season average.

"This is my first playoff win as a Head Coach and that is special," Shackleford said. "But, what's really special is how hard my guys played tonight."

Next weekend the Shock, who will maintain homefield advantage as long as they keep winning, will face Central Valley at Spokane's Veterans Arena.
You can only watch the game right here on KHQ.
As the top-seed in the Conference, the Shock are coming off of their best regular season (15-1) in the franchise's short three-year history.
NOTES: Numbers don't lie: OL Kyle Young tied for the team led in touchdown receptions (2) his third in the last two weeks. WR Andy Olson also had two touchdown receptions, for a total of seven receptions, and added 114 yards receiving. Slippery Suckers: LB Lee Foliaki and DB Roshawn Marshall each forced a fumble that were both recovered by Austin. Marshall and Foliaki also tied with 4.5 tackles. Spokane's defense was led by Foliaki's fellow LB Kevin McCullough who had 10 tackles.