Shock advance past Coyotes, face Amarillo in championship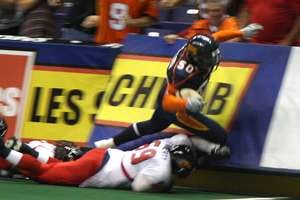 SPOKANE, Wash. - On paper, this game was going to be an old-fashioned Arena football offensive shoot-out and it proved to be just that as the Shock defeated the Coyotes, 83-63.

The Shock will now host the Amarillo Dusters for the National Conference Championship next Saturday at 7 p.m.

Tickets will go on sale to the general public at noon on Monday through TicketsWest.
FB Katon Bethay, who was selected as the Schutt's Offensive Player of the Game, was cast in the unlikely roll of the offensive hero. The third-year veteran had a career game, after sitting out last week with an injury, and rushed for 57 yards, averaging 7.1 yards per carry, with three touchdowns.
"We thought with their pass rush we might be able to get a few inside on them," Head Coach Adam Shackleford said. "He did a good job getting up the sideline and taking care of the football."
Bethay's efforts were complimented by WR Patrick Bugg who led the team in receptions with eight, and reception yardage with 111, tying Bethay with three touchdowns.
"We tried to spread the ball so they couldn't just focus in on Andy and Raul. We just tried to get everybody involved," Bugg explained. "Nick made some good reads and made some good throws."
Davila finished the night with 258 passing yards, completing 57 percent of his passes, with five touchdowns. The Shock's 83 points ties a league post-season record set by the Memphis Xplorers in 2006.
"We are going to go back and look at the film and see that scoring 83 points is nice, but we probably left 14 points out there," Shackleford said. "We had some mistakes that we can not make. We're not consistent at times. How do you change that? I think you just get back to work and work hard."
The Coyotes offense was led by Tonae Martin who had eight receptions with 128 yards and three touchdowns. Despite the fact that Coyotes QB Clay Groefsema was under heavy pressure all night, he still managed to complete 69 percent of his passes and tied Davila's numbers with 5 touchdowns.
"Our pass rush got to them a lot tonight," Shackleford added. "I think overall we played pretty well. Those were some good receivers we faced tonight."
The Shock's secondary came away with four interceptions - including one by Defensive Player of the Game, Sergio Gilliam bringing his 2008 total to 19.
NOTES:

JOMO GONZO: WR Jomo Wilson, who led the league in kick return average during the regular season, had two kicks returned for touchdowns with 132 yards.
YOUNG'S GOT HANDS: For the third game in a row, OL Kyle Young recorded a reception. RED ZONE: Both teams converted on every opportunity they had in the Red Zone. Spokane was a perfect nine for nine while Central Valley was a perfect four for four.

JLS Ironman of the Game: CENTRAL VALLEY - Jomo Wilson
ADT Defensive Player of the Game: SPOKANE - Sergio Gilliam
Schutts Offensive Player of the Game: SPOKANE - Katon Bethay
Cutter's Catch of the Game: SPOKANE - Patrick Bugg
Attendance: 8923

(www.spokaneshock.com)