Vandals scrimmage tests both sides of the ball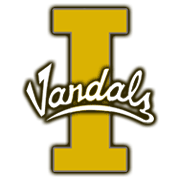 MOSCOW, Idaho - Saturday's University of Idaho football scrimmage wasn't as one-sided for the offense as last Tuesday's, and it wasn't necessarily because of anything the offense did wrong.
"I wanted to see how the defense was going to respond to what was not a good outing for them in the first scrimmage," coach Robb Akey said. "The first possession wasn't very good (for the defense) but I thought after that they did a good job."
The possession that drew a frown from the head coach was one directed by backup quarterback Quin Ashley that included a couple long gains to Eric Greenwood, who ultimately hauled in a 39-yarder to score. Greenwood's three receptions were highs for the Vandals in total and yardage (85).
Consistency throughout the ranks, though, wasn't what it was earlier in the week.
"Offensively, I wanted to see if those receivers were going to continue to show up today," Akey said. "Eric Greenwood certainly showed up today and that was good.
"I'd like to see more of that passing game working but I'm also happy to say that the defense was able to handle it. I certainly would hope that we have the back and forth in camp that we have now."
Starting quarterback Nathan Enderle liked the production of the 11 receivers used by the four quarterbacks.
"A couple of the receivers kept making big plays," said Enderle, who was 7-of-12 for 68 yards. "That's a big thing because they're consistently making big plays. ... Consistency is what we're looking for."
Defensively, the big plays were spread around from the trenches to the secondary. Six players - Michael Cosgrove, Jonah Sataraka, Andre Ferguson, Josh Bigler, Robert Siavii and Tyler Brooks - had sacks. Taylor Rust was a menace with two tackles-for-loss and Chris Williams intercepted a Chris Joseph pass.
The running game was steady with Corey White and Princeton McCarty each going for 29 yards with White doing it on three carries and McCarty on eight.
The Vandals scrimmage again Tuesday.
Scoring
Greenwood 39 pass from Ashley (Amancio kick)
Amancio 40 FG
Hatchett 50 pass from Morales (Amancio kick)
Vital 9 run (Amancio kick)
Amancio 30 FG
Hale 93 kickoff return