2-hour scrimmage ends Eagle's first week of practice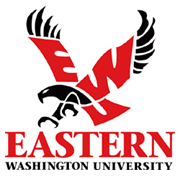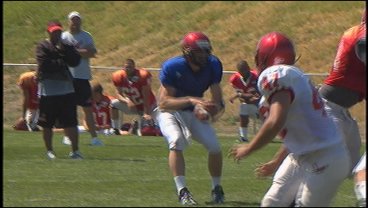 CHENEY, Wash. - There was no question the Eastern Washington University football team got a lot out of its first football scrimmage of preseason practices on Saturday.
A whopping 89 plays worth of work.
Under hot and sunny skies, new head coach Beau Baldwin put the Eagles through a nearly two-hour scrimmage at the EWU Sports and Recreation center practice fields in Cheney, Wash. Mostly situational in nature, the scrimmage had particular emphasis on plays in the red zone and on third down, as well as special teams.
The result of those 89 plays were 404 yards of total offense (4.5 per play), including 353 through the air. And don't forget the loads of videotape the Eagle coaching staff and players get to mull over in the coming days.
"It's hard to evaluate right after the scrimmage," said Baldwin, whose team opens the season Aug. 30 at Texas Tech followed by a trip to Colorado on Sept. 6. "I thought the guys played hard and, with this heat, that's not the easiest thing to do.
"This actually went a little longer than planned, but I think we got some good reps out of it and we'll see the film," he added. "That is when we'll have a real idea of how we did."
Returning Big Sky Conference Offensive MVP Matt Nichols completed 15-of-24 passes for 224 yards and a pair of touchdowns in the scrimmage. He was one of four Eagle quarterbacks who saw action as they combined to complete 30-of-46 passes for 353 yards.
A total of 14 different players caught passes, even though Baldwin held out two starting receivers (Aaron Boyce, Tony Davis) as a precautionary measure, as well as three of his four senior running backs (Dale Morris, Alexis Alexander, A.J. Jimerson).
Backup quarterback Alex Smart completed 8-of-13 passes for 81 yards, with true freshmen Scott Burgett (4-of-6, 24 yards) and Jeff Minnerly (3-of-3, 24 yards) also looking sharp. Minnerly is a recent graduate of Spokane's Ferris High School.
Returning starter Brynsen Brown was the leading pass receiver with five catches for 100 yards. He had a 67-yard reception from Nichols that came up just a few yards short from scoring, but he did end the scrimmage with a 2-yard touchdown grab from Nichols.
Brett Igbinoba, a 2005 graduate of Cheney High School, caught a 25-yard touchdown pass from Nichols and finished with four grabs for 61 yards. Tight end Matt Martin, a 2006 graduate from La Crosse-Washtunca High School, had three catches for 46 yards with a long of 28.
Offensive units rushed 36 times for 95 yards on Saturday, not including seven quick-whistle sacks for 39 yards in losses. Freshman redshirt Tyler Hart from Friday Harbor, Wash., rushed 11 times for 40 yards, including long rushes of 17 and 15 yards.
Eastern's defense was impressive, giving up just three plays of longer than 20 yards. They allowed only two touchdowns and three field goals, with all of the scores except for one of the touchdowns coming during the team's red-zone session.
Four players from area high schools combined for 22 tackles, including six tackles and an interception by safety John Roberts (Colville HS '07). Linebacker Marcus Walker (Pullman HS '04) also had six tackles, and linebackers J.C. Sherritt (Pullman HS '06) and Ethen Robinson (Lewis & Clark HS '06) had five each.
Linebacker Bobby Gentry from Seattle (Kennedy HS '07) had six tackles and a sack. Six different players had sacks, including a pair by newcomer Renard Williams, a redshirt freshman defensive lineman from Port Orchard, Wash. (South Kitsap HS '07).
Baldwin was encouraged by the play of the defense, despite not playing without several projected starters. Senior starting nose tackle Shawn Powell suffered a knee injury before practices even began and is out for the season. Another starter out for about a month with a broken fibula is freshman redshirt cornerback Taiwan Jones. And the Eagles played Saturday's scrimmage without the other starting cornerback, Lonnie Hosley, who was out with an ankle sprain.
"The defense did a great job and it all starts with our defense line," said Baldwin. "They are going to be the heart and soul of our defense and in a lot of ways our whole team.
"We have a lot of veterans coming back and they are going to set the tone," he continued. "We've had some injuries in some spots but I think it's created situations where other guys have to step up. We got to see that today, we'll see it on film and we'll see it next week."
Eastern returns 15 starters and 43 total letter winners from last year's squad, so Baldwin wasn't concerned about seeing much from the veterans. But senior center Charlie Wulff is the only starting offensive lineman returning, which made extra live repetitions that much more important for the newcomers Saturday.
"I think those guys are doing a great job and they want to be great," Baldwin said. "They aren't there yet -- no one is there yet. But they want to work hard and progress.
"It's about getting better between each game throughout the season. They are on the right track. I am excited about the crew that's up there because they have a lot of great character."
This week, Eastern will practice twice on Sunday, Tuesday and Thursday, as well as once on Monday and Wednesday, in preparation for the final scrimmage of the preseason. That will take place on Friday, Aug. 22 at about 10:40 a.m. at Woodward Field on the EWU campus.
"We just want to get in a situation where we understand where we need to be, know our assignments and are also fresh going into game week," said Baldwin of the approaching season. "There's a fine line as far as how much hitting you do and how much you do more mental stuff.
Eastern followed a 3-8 season in 2006 with a 9-4 finish in 2007 that included a quarterfinal appearance in the NCAA Football Championship Subdivision Playoffs. Eastern enters this season ranked as high as fourth nationally in FCS.
"You are always nervous and all coaches will say that," he added. "We have the right makeup as far as the character and desire of our players. These guys are hungry to do more than they did last year. I'm excited about where we are going to be."

(HTTP://WWW.GOEAGS.COM)