Chiefs acquire new goaltender; Preseason starts Friday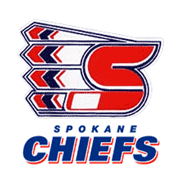 SPOKANE, Wash. - The Spokane Chiefs have acquired 18-year-old goaltender Alex Wright from the Prince George Cougars in exchange for a conditional draft pick.
Wright is now one of three goaltenders on the Chiefs roster, including 19-year-old Dustin Tokarski and 18-year-old rookie James Reid.
"With Dustin going to pro camp with Tampa Bay and also a candidate for Canada's World Junior Team we definitely will have a need for a third goaltender," Chiefs General Manager Tim Speltz said. "Alex had a great year last year and we feel we will have an opportunity for him this season."
Wright helped his Midget team, the Cariboo Cougars, win the BC provincial championship last season.
The Chiefs have also reassigned two players, 17-year-old forwards Taylor Fraser and Steve Wall, to their junior A team in St. Albert, Alberta.
The moves leave Spokane with 32 players on the roster going into this weekend's pre-season tournament in Everett. The Chiefs are currently carrying 18 forwards, 11 defensemen and three goaltenders.

In camp since last Wednesday, Spokane will play the first of their seven pre-season games on Friday against the host Silvertips.
"We're going to play as many young guys in every game that we can," Chiefs Head Coach Hardy Sauter said. "Obviously we're going to try and win the game, but in the end it is more important to assess talent at this point of the year."
Spokane is still carrying four 1993 born players, all bantam draft selections this past spring and not eligible to play full-time in the regular season. "They have all fit in," Sauter said about first round pick Mitch Holmberg, second round selection Brady Brassart, fourth round pick Tanner Mort and fifth round pick Michael Aviani.
The four have spent the week in Spokane, practicing and preparing for their first taste of WHL action this weekend. "They have been outstanding. All of them have talent, all of them have hockey sense and they're all good kids. It is a real nice reflection of the job our scouting staff has done," Sauter said.
Early on, "practice has gone excellent. At this time of year we mainly wanted to get everyone moving and handling the puck. We want to get the kids to show what they can do and see what kind of natural instincts they have," Sauter said.
Spokane will play Everett on Friday at 7:00, Portland on Saturday at 3:00 and Tri-City on Sunday at 11:30. The Chiefs will play one home pre-season game, Friday, September 12th when they host the Kelowna Rockets at Eagles Ice-A-Rena.

(www.spokanechiefs.com)