Ferris grad catches on with the Cougs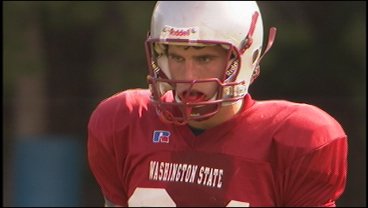 SPOKANE, Wash. - The Cougars will open the season at Qwest Field on Saturday, where they will host the Oklahoma State Cowboys. GSL fans should keep an eye on Jared Karstetter, who's proven to be quite a catch for the Cougs.
Ferris grad Jared Karstetter is making a near seamless transition to college football, even if he won't admit it himself.
"The game's so much different. So many little things you have to work on and get better at to be able to complete at this level. So I'm just trying to work hard everyday."
That hard work caught the coaches' eyes right away and because of injuries number 84 is expected to start in his very first game on Saturday.
"He's really coming along," said Coach Wulff. "He's a hard worker. He's a competitor, which is putting him in a position to play and make plays and we need him to do that, because one, he's capable, and two, he just keeps getting better."
"It's been a good experience to get an opportunity and try to take advantage of it and run with it as much as you can," said Karsetter. "But like I said, I just try to go out and compete and have fun out there and keep learning and hopefully just help the team."
Senior Brandon Gibson thinks Karstetter will help right away and for the next four years.
"He's a beast, man. Physically, he's very, very impressive and he does a lot of things well. Over these next couple years, I can't wait to watch him grow up and develop mentally and physically. And he's going to be a hell of a receiver."
Cougar fans, especially those in Spokane, will be hoping he's right.