Vandals strike early in victory over Bengals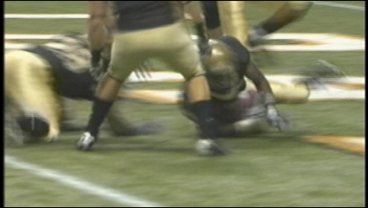 MOSCOW - Idaho sophomore wide receiver Maurice Shaw said that he had dreams about taking a deep pass to the house for a score in the days leading up to Saturday's game against Idaho State.
It took him about 40 seconds to make that a reality as the Vandals got on the board early and never looked back in a 42-27 nonconference victory over the Bengals.
The Vandals put up their highest point total since a 45-31 win over Arkansas State in 2004 and the most in a home opener since beating Portland State 46-0 in 1997.
"It's nice to get a win," Idaho center and offensive captain Adam Korby said. "Everyone's mentality is that much better going into that week of practice after a win."
Shaw's 77-yard TD reception on Idaho's opening play couldn't have given the Vandals a better start. They opened the game with a perfect play-action pass that totally fooled the ISU defense and left Shaw with nothing but open field in front of him.
"We knew they were going to try to stop the run right off the bat, so we came out and knew we were going to take a shot with that play-action down the field and it worked for us," Korby said. "That safety sucked up and we went right over his head."
Sophomore quarterback Nathan Enderle had a nice day on the field with an efficient 8-of-12 through the air for 170 yards and a pair of touchdowns, with an eight-yard touchdown scamper to boot. While his big pass got everything started, he credited his running backs for his good day.
"When you have a good run game and your backs are hitting the holes hard, it makes everything so much easier," Enderle said. "Because they have to put more and more in the box, giving us numbers outside to throw the ball."
After the offense got its game going early, the defense stepped up next. The Vandal 'D' held ISU to a three-and-out on the opening drive, then held the Bengals without a first down on their second drive, as well.
After offense and defense got their moment, it was time for the special teams unit to show its stuff. A high snap on ISU's first-quarter punt gave Vandal corner Eric Hunter all the time he needed to get behind the line and clobber Bengal punter Jon Vanderwielen for a block just in front of the goal line. After a moment's panic, Hunter realized that the ball was sitting right between his feet and he scooped it to score and make it 14-0 Vandals just five minutes into the game.
An 18-yard Deonte' Jackson touchdown run and an Enderle-to-Eddie Williams 15-yard toss gave the Vandals a 28-7 halftime lead. After 30 minutes, the Vandals had outgained ISU by a 272-108 margin and Jackson had already eclipsed the 100-yard mark on the ground on just 12 carries.
Sophomore corner Isaac Butts got things started in the third when he snatched his first career pick on an underthrown pass. He returned it to the ISU 8-yard-line and two plays later, freshman running back Corey White punched it in to give Idaho a 35-7 lead.
Butts struck again just two drives later when he got himself into perfect position and stole an ISU fade route at his own seven-yard-line. The offense didn't let the opportunity go to waste as the team churned the ball 93 yards down the field with 10 running plays in an 11-play drive ending in Enderle's eight-yard run.
"I was looking down field the whole time thinking, 'Somebody get open!' then all of a sudden I was three yards outside the endzone and I was like 'Oh, this is way easier,' " Enderle said about his run.
The Bengals proved they still had plenty of fight left in them as they put together two late scoring drives to go from a 42-13 deficit to 42-27 late in the fourth, but interceptions by Virdell Larkins and Breyon Williams helped quell any more threats. ISU wide receiver Eddie Thompson had the best game any Bengal wide receiver ever has with a school-record 17 catches for 120 yards and a touchdown.
While the Vandals are happy to get the win, they also know that it's just one step in the process.
"I think that we played good today, but we can still improve in every aspect of the game, whether it's special teams, offense or defense," Butts said. "You can always get better and to get what we want to do, which is a WAC Championship, and to get to our goals, we've got to keep getting better."
Idaho head coach Robb Akey said that the team will celebrate today, then get right back to work on Sunday preparing for Western Michigan next weekend.
"There's a lot that needed to be better than the way we played today," Akey said. "I'm happy for the win and I always will be. Wins are hard to come by. If it was easy to do, we wouldn't keep track of the dang thing."
The final tally for the game saw Idaho with 249 rushing yards-an average of 5.8 per carry-and 170 yards passing-an average of 13.1 yards per attempt and 21.2 yards per completion.
Princeton McCarty picked up 68 yards on seven carries with a long of 42, while Troy Vital picked up 28 tough yards on five carries and White picked up 21 yards and a touchdown on six runs. Shaw led all receivers with three catches for 99 yards and the score, while Williams picked up 38 yards on two catches with one touchdown.
Defensive captain Shiloh Keo led all Idaho defenders with nine tackles, while Larkins had eight, along with the interception. Linebacker Andrew Blevins made plenty of big hits all over the field and finished with eight tackles. Defensive tackle Michael Cosgrove made Idaho's lone sack of the day, while fellow linemen Jonah Sataraka and Taylor Rust each had one quarterback hurry.
Idaho's next opponent will be the Western Michigan Broncos on Saturday at 2 p.m. in the Kibbie Dome.