Chiefs earn 6-4 win over Tri-City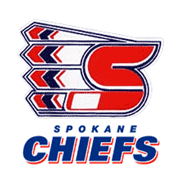 SPOKANE, Wash. - David Conrad and Dustin Donaghy each scored two goals to help lead the Spokane Chiefs to a 6-4 win over the Tri-City Americans on Saturday night.

Spokane is now 3-2 in the pre-season with two games remaining before the regular season begins on Thursday, September 18th in Cranbrook as the defending Memorial Cup Champions take on the Kootenay Ice.
Spokane broke out with three first period goals, the first by 16-year-old T.C. Cratsenberg at 3:23 and the next two from Conrad at 8:13 and 12:10. Conrad was the Chiefs third round pick in the 2006 WHL Bantam Draft. Justin McCrae assisted on both of the 17-year-old's goals. The American's Brooks Macek scored at 19:40 on the power play to make it a 3-1 game after one.
Tri-City's Justin Feser scored the lone second period goal, again on the power play, at 14:59 to pull the Americans within one with just 20-minutes remaining.
At 2:35 of the third Stefan Ulmer's first of the pre-season pushed the Chiefs lead to two goals before Donaghy's first of the night at 7:28 gave Spokane a three goal lead. The goal, assisted by McCrae, was shorthanded and counted as the eventual game winner.
Feser tallied again at 11:17 of the third and Jason Reese scored the American's last goal of the night at 16:46.
Donaghy's second of the night came at 18:34 from Steve Kuhn and Ulmer, who finished the night with a goal and two helpers.
Dustin Tokarski went the distance in net for the Chiefs and stopped 39 shots in the win.
Spokane was 1-5 on the power play and 8-10 on the penalty kill while the Americans had a 43-32 shot advantage.
The Chiefs will finish the pre-season next weekend with a home-and-home with the Kelowna Rockets starting on Friday night at Eagles Ice-A-Rena at 7:00. Ticket are on sale at the Chiefs office. Saturday night, Spokane will travel to Kelowna.
The home portion of the regular season will begin on Saturday, September 27th when the Chiefs host the Tri-City Americans on Bud Light Opening Night. The Chiefs and The Black Book by Hagadone Directories will be handing out replica banners to the first 3,000 fans through the gates as well as full season ticket holders.

(www.spokanechiefs.com)