September 2008 Wedding Notes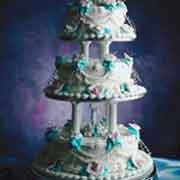 Welcome to September. We hope that many of you had a chance to enjoy the bridal festival this past weekend. Congratulations to those who won tickets to the event and thanks to everyone who participated in the contest. We will keep you posted as new contests happen.
If you are to the point of planning your wedding music, we have some information to share about the Top 10 Wedding Music Myths. The article from "The Knot" will help you learn the ins and outs of hiring a band or DJ.
What do you need to know before you order your cake? The Top 8 Wedding Cake Q&As will help you learn when you should start looking for a cake, how to find the right one, and how to display the cake at the reception.
Just a quick reminder, if you are looking for a cake from a local bakery, we have several great bakers you may want to learn more about. Click the link to Wedding Directory - Wedding Cakes
If you are looking for a honeymoon destination, do we have a recommendation for you. This month's Honeymoon Hotspot is Italy. Katie Shaler shares the romance and uniqueness of the different regions.
Finally, before we leave you this month, here is the Month-by-Month Wedding Calendar for you to make sure you have every detail covered for your special day.
Have a great September!