September 2008 Diabetes Notes from Stephanie
Posted:
Updated: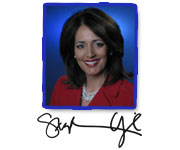 What a great kick off to September. I have been at the Spokane County Interstate Fair this week and it has been so much fun meeting everyone. If you plan on coming to the fair be sure to stop by the KHQ Booth and say hi.
If you are a parent, like me, I am sure this month has been filled with getting the kids back in the routine of going to school. Sometimes the hard part is what they will do and how they will snack when they get home.
On that note, I have found two great things on the American Diabetes Association site that I want to share with you. The first is MyFoodAdvisor. You can find more than 5000 different foods, recipes, search healthy alternatives, and add up carbs, fats and other nutrients.
The other section is new and is perfect for kids who want to play some computer games. It's the Youth Zone. They can build a healthy plate, have a food fight (yes, you read that correctly) and one of my co-worker's favorite, Fix Frank.
Keeping in mind the growing concern about children and Diabetes, I want to point out that there are a couple events happening this month. On September 17th you can participate in Keeping Kids with Diabetes Healthy. And on September 27th, the Walk to Cure Diabetes happens in Riverfront Park. Here is the link to the KHQ Community Diabetes Calendar to learn more about those events as well as post a Diabetes Event your group may be organizing.
Finally, we posted a story that is worth reading. It focuses on intensive drug treatment soon after diagnosis of Diabetes and how it can help people be healthier as they grow older. It is the top story right now on www.khq.com/diabetes.
Before I leave you, big thanks to everyone who visited the Senior Wellness Conference last Thursday and stopped by the Diabetes Booth. A while back we partnered with Coeur d'Alene Tribe and Casino because of the tribe's concern with Diabetes in their community and throughout the Inland Northwest. They supported having the booth and The Eastern Washington Diabetes Network organized information and brought in experts from Washington State University School of Pharmacy to talk with everyone.
Needless to say there are a lot of people who want to help with the prevention and control of Diabetes. We hope those kinds of events and this newsletter brings information that helps support that mission.
Until next month, take care of yourself and come say hi if you are at the fair!