Whitworth beats La Verne in 2008 opener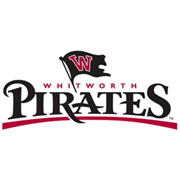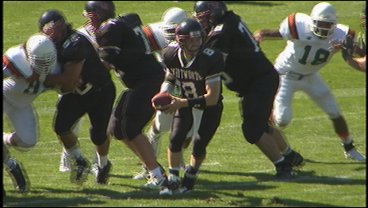 SPOKANE, Wash. - Adam Anderson ran for 158 yards and Joey VanHoomissen caught two touchdowns to lead Whitworth University to a season opening 22-13 win over visiting La Verne in a non-conference football game on Saturday afternoon in the Pine Bowl.
Anderson (Jr., RB, Elk, Wash.) carried 33 times for his 158 yard total and scored the game-clinching touchdown in the fourth quarter. VanHoomissen (Sr., TE, Renton, Wash.) was on the receiving end of a pair of second quarter touchdown passes by Kory Kemp (Sr., QB, Redmond, Wash.). He finished with four catches for 62 yards.
While the Pirates controlled the game statistically, they could not shake the Leopards. Whitworth finished with 400-229 edge in total offense, including a 269-6 advantage in rushing yards. The Bucs also controlled the clock, keeping the ball for 35:58 to only 24:02 for La Verne.
But the Leopards converted a pair of interceptions into touchdowns to keep the game close.
Whitworth drove inside the La Verne 25 yard line on each of its first two possessions, but came up empty each time - once losing possession on downs and then missing a 37 yard field goal.
La Verne did not pick up a first down until the second quarter, but then drove to the Whitworth 30 before the Pirates held on downs. Whitworth then went 70 yards the other way, finishing with a five yard touchdown pass from Kemp to VanHoomissen to complete the drive.
After La Verne fumbled a punt on its next possession, Kemp and VanHoomissen combined again from four yards for a Pirate score. Chad Flett passed to Anderson for a two point conversion to make it 15-0 Pirates with 5:20 left in the second.
Whitworth appeared poised to strike again before halftime, but Kemp was intercepted by Joe Padilla, who returned the ball 32 yards to the Whitworth 36 yard line. One third and goal from the Whitworth five, Anthony Andre passed to Phi Van Le for the touchdown. After the Leopards missed the PAT, Whitworth had a 15-6 lead at halftime.
The teams traded punts five times to open the second half. On the first play after Whitworth took over on its own 18 yard line, Kemp was intercepted by Taylor Hart at the 25. Four plays later Andre completed a 19 yard pass on fourth down to Fernando Gonzalez to pull La Verne within 15-13.
The Pirates sealed the game in the fourth quarter, driving 59 yards to go up 22-13 on Anderson's four yard run with 7:56 to play. The drive took 4:26.
In addition to Anderson, Milton Nelson (Jr., RB, Spokane, Wash.) had a strong day running the ball for the Pirates, picking up 81 yards on 12 carries. Kemp finished 12 of 22 for 131 yards with two touchdowns and two interceptions. Anderson also ended up as the Pirates' leading receiver with five catches for 54 yards.
Andre completed 17 of 30 passes for 203 yards with two touchdowns and no interceptions.Van Le caught eight balls for 58 yards with one score to lead the Leopard receivers. Curtis Puli was the leading rusher for La Verne with 14 carries for 34 yards.
Whitworth's defense, which lost nine starters to graduation after the 2007 season, was led by Brandon Martin (Jr., DT, Sweet Home, Ore.), who finished with 10 tackles. Jesse Clark (Sr., DB, Spokane, Wash.), Paul Werhane (So., LB, Beaverton, Ore.) and Robert Schaefer (So., FS, Bothell, Wash.) all had six tackles. The Pirates had six sacks (-32 yards) and 13 total tackles for losses of 59 yards.
Jason Carpenter led La Verne with a game-high 16 tackles, including two for losses of three yards.
Whitworth will travel to California next Saturday for a game at defending SCIAC champion Redlands. La Verne has a week off before hosting Willamette of the NWC.