Chiefs end pre-season with OT win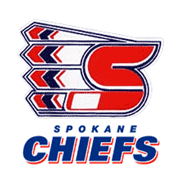 SPOKANE, Wash. - The Spokane Chiefs finished their pre-season schedule with a 3-2 overtime win over the Kelowna Rockets in the second half of a home-and-home series with the B.C. Division club.
Defenseman Stefan Ulmer scored 1:13 into the extra period to help Spokane up their record to 4-3 in the pre-season. The Chiefs will now travel to Cranbrook on Thursday, September 18th to take on the Kootenay Ice and kick off the WHL's regular season.
Twenty-year-old Justin McCrae had one goal and two assists and 18-year-old Alex Wright stopped 21 of 23 shots to earn the win.
McCrae staked Spokane to a 1-0 lead just 1:30 into the game when he scored off a Seth Compton assist. The Rockets pulled even at 5:50 on a Stephan Novotny goal and would take a 2-1 lead at 5:21 of the second as Mitchell Callahan scored.
The Chiefs David Conrad scored with just two seconds remaining in the second period to make it a 2-2 game after 40-minutes. The goal was the 17-year-old rookie's third in two games.
The Chiefs outshot the Rockets 11-6 in the third period and 26-23 for the game.
Both McCrae and Conrad assisted on Ulmer's second of the pre-season. Spokane was 0-2 on the power play and 4-5 on the penalty kill.
Spokane will play the first game in the WHL regular season when they travel to Cranbrook to take on the Kootenay Ice on Thursday, September 18th. Gametime is scheduled for 6:30. Mike Boyle will go on the air at 6:00 with Comcast Hockey Tonight on 1510 KGA. The game can also be seen live on Comcast channel 78.

The home portion of the regular season will begin on Saturday, September 27th when the Chiefs host the Tri-City Americans on Bud Light Opening Night.

The Chiefs and The Black Book by Hagadone Directories will be handing out replica banners to the first 3,000 fans through the gates as well as full season ticket holders.