"Heroes" returns with Season Three: Villains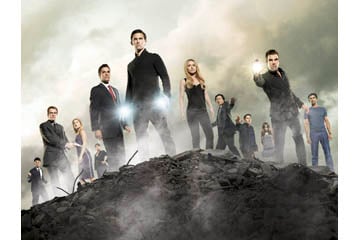 From creator/writer Tim Kring (NBC's "Crossing Jordan") comes the award-winning "Heroes," an epic drama that chronicles the lives of ordinary people who discover they possess extraordinary abilities. In its first two seasons, "Heroes" was honored with a People's Choice Award, an AFI Award, a Multicultural Prism Award, a TV Land Future Classic Award, the TV Critics Association Awards' Outstanding Program of the Year, and the International prize at this year's BAFTA Television Awards and Choice TV Show Action Adventure at the Teen Choice Awards, as well as nominations at the Primetime Emmy Awards, Golden Globe Awards, NAACP Image Awards, WGA Awards and Satellite Awards. On Monday, September 22, "Heroes" returns for its third season, with a brand-new chapter, "Volume 3: Villains," which will explore the nature of good and evil in all the characters, as a cadre of villains is unleashed upon the world.

Previously in "Volume 1: Genesis" and "Volume 2: Generations," when a total eclipse cast its shadow across the globe, a multitude of everyday men and women with special powers seemingly were called forth. To prevent grim predictions of the future, a handful of these individuals banded together to save the cheerleader, New York City, and the world. Now, as ominous, new signs signal catastrophe ahead, new and familiar adversaries begin to gather...

With his abilities returned to him, serial killer Sylar (Zachary Quinto) relentlessly continues to accumulate other people's abilities, which leads him to the Bennet house. Bound to a secret company with a keen interest in people like his daughter, "H.R.G.," a.k.a. Noah Bennet (Jack Coleman), finds new purpose when his most dangerous, fantastic foes break out of custody and must be dragged back. Reeling from recent events and revelations, Claire Bennet (Hayden Panettiere), an indestructible high school cheerleader, struggles to define her identity and place in the world.

An act of heroism unveils an amazing secret about Niki Sanders (Ali Larter), a Las Vegas single mother with astonishing strength -- and an unknown, hidden family. In Japan, Yamagato Industries heir Hiro Nakamura (Masi Oka) continues to use his ability to pierce the space-time continuum and manipulate time to leap into wild, international adventures with his best friend, Ando Masahashi (James Kyson Lee).

Nathan Petrelli's (Adrian Pasdar) attempted assassination leads several Heroes on a stunning spiritual quest to explain his power of flight. For his younger brother, Peter (Milo Ventimiglia), the future and present collide as his many absorbed powers lead him to discover that the only way to end the catastrophic moment facing the world is to do the unimaginable. Meanwhile, their ruthless mother Angela (Cristine Rose) and her associates continue their ongoing, complex machinations to change the world from the shadows.

Former LAPD officer Matt Parkman (Greg Grunberg) is taught new ways to use his expanding ability to hear and manipulate other's thoughts by an unlikely guide. Dr. Mohinder Suresh (Sendhil Ramamurthy), a genetics professor from India, takes a dangerous step into darkness as his research into those with extraordinary abilities living among us continues. Far from her Dominican Republic home, Maya Herrera (Dania Ramirez), who causes death when filled with fear or anger, begs Suresh to cure her - only to watch helplessly as he embraces his darker side.
On Monday, September 22, "Heroes" returns for its third season on NBC and you can watch it right here on KHQ.