Whitworth football team falls to the Bulldogs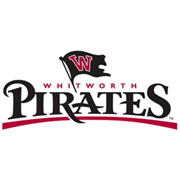 REDLANDS, Calif. - Whitworth University could not stay with 23rd-ranked University of Redlands offensively or defensively, falling 38-7 to the Bulldogs in a non-conference football game on Saturday night at Ted Runner Stadium.
The Pirates (1-1) were held to 130 yards of total offense and -4 yards rushing on a night when starting quarterback Kory Kemp went out with an ankle injury in the second quarter. But Redlands (2-0), on the way to 448 yards of offense, already led 21-0 when Kemp suffered his injury.
After an exchange of punts to open the game, Redlands drove 92 yards in 14 plays to take a 7-0 lead on Nick Schroeder's four yard pass from Dan Selway. Whitworth could not gain a first down on its next possession and the Bulldogs went 83 yards for another score - this time a 70 yard run by Zack Schafer.
Selway connected with running back Tom Romaine for a pair of passing touchdowns in the second quarter to give Redlands a 28-0 halftime lead. The first, a three-yard score, completed a 72 yard drive. The second came after Pirate freshman quarterback Andrew Durant fumbled a snap deep in Whitworth's territory.
The Pirates opened the third quarter with their most effective offensive drive of the game. Back up quarterback Mike Peck completed a 45 yard touchdown pass to Adam Anderson to complete a 58 yard drive. But Whitworth would gain only one for first down the rest of the game as Redlands' defense re-established control.
The Pirate defense stiffened in the second half, shutting out the Bulldogs in the third quarter. But an interception at the Whitworth 27 yard line allowed Redlands to kick a 44 yard field goal with 14:03 left in the game. The Bulldogs added on a final touchdown with 6:25 to play against a fatigued Whitworth defense, going 71 yards on 13 plays. Jeff Stewart ran in from four yards to complete the possession.
Selway completed 24 of 33 passes for 260 yards with three scores and one interception. Brenden Barkate caught five passes for 72 yards and Kenny Romero added five grabs for 68 yards to lead the Bulldog receivers. Schafer led Redlands in rushing with 92 yards on only 8 carries, but 70 of those came on his touchdown burst.
Adam Anderson finished with 162 all-purpose yards, but he worked hard for every one of those. He was held to 35 rushing yards on 15 carries and caught four passes for 64 yards. He returned two kick offs for a total of 63 yards.
Kemp completed five of six passes for 39 yards before his injury. Peck was 5 of 15 for 95 yards with an interception and his first career touchdown pass. Dale Entel caught three passes for 43 yards. Redlands sacked Whitworth quarterbacks five times for 35 yards in losses and Pirate quarterbacks finished with -43 yards rushing.
Linebacker Layton Brown led Whitworth's defenders with 10 tackles, while defensive backs Jesse Clark and Derek Stottlemyer had eight tackles each. Cameron Stroyan had Whitworth's only interception of the game.
Whitworth will try to bounce back next Saturday when the Pirates return to Southern California to take on Chapman University.