Lipstick Jungle Season Premiere airs Wednesday at 10 p.m.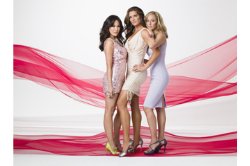 Lipstick Jungle returns for it's second season, the premiere airs on Wednesday, Sept. 24 at 10 p.m on KHQ.
The premiere features multiple Emmy Award winner Mary Tyler Moore ("Mary Tyler Moore Show") and Academy Award nominee, Rosie Perez ("Fearless") as a guest-star. Nico (Kim Raver) is haunted by her infidelity when Charles (Chris Cousins) gives her a photograph that Kirby (Robert Buckley) took of her during their affair. Overcome with guilt, she debates whether she should tell Charles the truth and decides to go to extreme measures to save her marriage. Wendy (Brooke Shields) decides to cut back on her hours at the office and spend more time at home after she finds her under-age daughter, Maddie (Sarah Hyland), at a bar. Her transition into domestic life is not an easy one especially when her opinionated mother (Moore) unexpectedly comes to the city for a visit. Victory (Lindsay Price) finds it difficult to avoid Joe (Andrew McCarthy) who is desperate to get her back. Trying to move on from their personal relationship, she hires a publicist Dahlia Morales (Perez) to help brand her business and find a retail space. Paul Blackthorne also stars.
Based on the best-selling book by Candace Bushnell ("Sex and the City"), this sexy drama follows three high-powered friends as they weather the ups and downs of lives lived at the top of their game.

Movie exec Wendy does everything she can to balance career and family. Nico, editor-in-chief of a hot fashion magazine, has her eye on becoming CEO. And free-spirited designer Victory longs to make her dreams come true -- and maybe find "Mr. Right" along the way.

Armed with humor and strength, these three modern New York women support one another through the triumphs and tears that are all part of making it big in the Big Apple. Also starring are Andrew McCarthy ("Joy Luck Club"), David Noroña ("Frasier") Paul Blackthorne ("Big Shots") and Robert Buckley ("Fashion House").
Be sure to watch the season premiere of Lipstick Jungle on Wednesday, Sept. 24 airing at 10 p.m. on KHQ.