Knight Rider premieres Wednesday, Sept. 24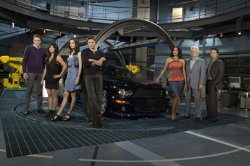 NBC's new action series, Knight Rider, premieres on Wednesday, Sept. 24 at 8 p.m. on KHQ.
On the heels of NBC's hit movie, the iconic 1980s television classic comes roaring back to life as a reinvented, updated and super-charged action series showcasing the new KITT (Knight Industries Three Thousand). Absolutely the coolest car ever created, KITT is equipped with an "AI" (artificial intelligence) that is capable of hacking almost any system. Its weapons systems match that of a jet fighter, and its body is capable of actually transforming into other vehicles and using sophisticated holographic imagery to elude villains.
In the series premiere titled A Knight in Shining Armor, Mike (Justin Bruening) and KITT (voiced by Val Kilmer) are assigned a seemingly easy package delivery - until they realize the package is actually a man with vital top secret code decryption built into his DNA. The mission gets complicated when the enemies, including a mysterious woman (guest star Paula Garces, "The Shield"), seem to know a great deal about Mike and a past he can't recall. Deanna Russo, Sydney Tamiia Poitier, Paul Campbell, Yancey Arias and Bruce Davison star. Smith Cho recurs.
"Knight Rider" stars Justin Bruening, Deanna Russo, Sydney Tamiia Poitier and Bruce Davison. David Bartis, Doug Liman and Gary Scott Thompson are executive producers.