"My Name Is Earl" returns for its fourth season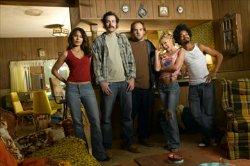 NBC's hit comedy "My Name Is Earl" premiere's Thursday September 25 at 8:00 p.m. on KHQ.
In the one-hour season premiere, earl helps guest star Seth Green (robot chicken) make his own low-low-low budget action movie and in the second half-hour, guest star Beau Bridges returns as Earl's father and the two bond over their women trouble. When Joy cons Make-A-Wish to send a celebrity to her trailer, Earl remembers a wish he stole from a dying child and decides it's time to cross him off the list. When he returns to the kid's home, he finds that little Buddy (guest star Seth Green) has exceeded all of the doctors' expectations and is still alive. Buddy asks Earl to produce his movie and suddenly all of Camden County find themselves starring in a high-octane action film. Randy surprises everyone when his acting skills get rave reviews. In the second half-hour, Earl and Randy decide it's time to make amends with their childhood neighbors, the Clarks. But when they discover more skeletons in the closet than they had expected, the brothers find themselves needing to sort out some family issues between their mom (Nancy Lenehan) and dad (guest star Beau Bridges). Meanwhile, Joy has duped one-eyed Willy out of his glass eye, and despite Darnell's efforts Willy may never "see" that eye again
Earl (Jason Lee, "Almost Famous," "Chasing Amy") has taken one too many wrong turns on the highway of life. However, a twist of fate sends him into a life-renewing tailspin. When a car hits Earl, immediately after he won the lottery, he has an epiphany and begins to question his karma. From that moment on he becomes determined to right all the wrongs from his past.

To date, the comedy has received the People's Choice Award, two Television Critics Awards, a Screen Actors Guild Award for Outstanding Performance by an Ensemble in a Comedy Series and Emmy Awards for writing, directing, casting and editing. Once again, this season, "Earl" will anchor the Thursday-night lineup.

Joining Earl on his quest to cleanse his karma are a few dim-witted friends including his hapless brother Randy (Ethan Suplee, "Cold Mountain"), the very sexy stripper/hotel maid Catalina (Nadine Velazquez, "The Bold and the Beautiful") and Darnell (Eddie Steeples, "Torque"), an employee of the Crab Shack where Earl drinks beer, who all offer their support. Earl's ex-wife Joy (Jaime Pressly, "Not Another Teen Movie"), on the other hand, is only happy to help as long as there is something in it for her.

Despite his seemingly limited intelligence, Earl is oddly effective, and the fourth-year series, like its namesake, has a voice and style all its own.