Whitworth wins wild one on late fumble recovery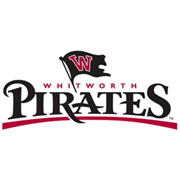 ORANGE, Calif. -- Jimmy Hill recovered a fumble in the endzone for the game-winning touchdown with 51 seconds to play, and McLane Stone made an interception deep in Whitworth University territory to turn back Chapman University's last ditch scoring effort as visiting Pirates defeated the Panthers 41-35 in a non-conference football game on Saturday evening at Wilson Field.
Whitworth (2-1), coming off of its worst loss in six years last Saturday at Redlands, took a 27-14 lead in the second quarter before Chapman rallied with 21 straight points to take a 35-27 lead into the fourth quarter. But the Pirates scored twice in the final period to pull out the win and hand the Panthers (1-1) their first loss of the season.
Adam Anderson (Jr., RB, Elk, Wash.) posted a school-record 324 all-purpose yards and scored four touchdowns to lead the Pirates to the win. Anderson ran 23 times for 144 yards and two scores, caught five passes for 56 yards and another touchdown and returned three kickoffs for 124 yards, including an 82 yard return for a touchdown.
Mike Peck (Jr., QB, Longview, Wash.), making his first career start, completed 12 of 21 passes for 168 yards with one touchdown and no interceptions.
Whitworth took the opening kickoff and marched 62 yards in nine plays, scoring on Anderson's one-yard run. But Chapman responded after Akio Lloyd returned the ensuing kick off 51 yards to the Whitworth 39 yard line, and the Panthers scored six plays later on Mike Christensen's four yard run to tie the game.
But Anderson had his own answer for the Pirates, returning Chapman's kick 82 yards for a touchdown with Cameron Stroyan (Jr., LB, Chewelah, Wash.) throwing a key block along the way. It was Whitworth's first kick of return for a touchdown since 2004.
After a Chapman punt only went 22 yards, the Pirates went 56 yards in five plays, scoring on Milton Nelson's (Jr., RB, Spokane, Wash.) one-yard plunge to take a 20-7 lead. The extra point was missed.
The Panthers then went on their longest scoring drive of the night, covering 66 yards in seven plays. Lloyd scored on a two-yard carry to pull Chapman within six. The Panthers had a chance to go ahead after forcing Whitworth into a three-and-out on the next possession, but Brandon Martin (Jr., DT, Sweet Home, Ore.) recovered a fumble at the Chapman 39 yard line. Two plays later Anderson scored on a 38 yard carry to give Whitworth a 27-14 lead with 3:37 to play in the half.
But another big kick off return set up Chapman at the Whitworth 41 yard line and the Panthers scored on Eric Marty's 19 yard touchdown pass to Lloyd with 1:40 to play in the period to pull within 27-21.
The Panthers owned the third quarter, outscoring Whitworth 14-0. Things got off to a bad start for the Pirates when an onsides kick attempt to start the third quarter failed and Chapman only had to drive 49 yards to go ahead 28-27. Lloyd scored his third touchdown of the game on a three yard carry.
Late in the quarter a short Whitworth punt was returned 16 yards to the Pirates' 35 yard line and the Panthers only needed two plays to score on a 16 yard pass from Marty to Kaleo Perez. After the PAT the Panthers led 35-27.
But Peck was not rattled and he led Whitworth on its most sustained drive of the game on the next possession. After a penalty and a play that lost six yards the Pirates had second and 26 at their own 40 yard line when Peck eluded a rush and found Anderson open for a 40 yard gain. Then on fourth and goal at the eight, Peck again connected with Anderson for a touchdown that capped a 63 yard drive that took ten plays. But the two point attempt failed and Whitworth trailed 35-33.
After an exchange of punts, Whitworth took over at its own 42 with 4:23 to play. Whitworth steadily drove into Chapman territory, but then faced third and 11 at the Panther 13 yard line. Anderson looked like he was going for his fifth touchdown of the game when he was stripped at the CU three yard line. The ball rolled into the endzone, where Hill (Sr., TE, Renton, Wash.) fell on the ball to score the go-ahead touchdown with 51 seconds left. Nelson then carried in for the two point conversion.
A squib kick was fielded well by Chapman and the Panthers took over at their own 46. Two completions and a roughing the passer penalty moved Chapman to the 30 yard line with 15 seconds left, but Stone intercepted Marty's pass at the Whitworth eight yard line to seal the win.
Whitworth outgained Chapman 386-324, including a rushing advantage of 218-103. For the first time this season the Pirates had the advantage in turnovers, 3-1.
Marty completed 18 of 25 passes for 221 yards with two touchdowns and one interception. Perez caught six passes for 84 yards. Christensen was the leading rusher for Chapman with 52 yards on 14 carries.
Nate Hadley (Jr., LB, Mukilteo, Wash.) had seven tackles, while Martin finished with five tackles, including a four yard sack, and a rumble recovery. Nick Ashley (So., DE, Lind, Wash.) had two tackles for losses totaling nine yards and also recovered a fumble.
The Pirates will return to the Pine Bowl to host nationally-ranked Willamette University next Saturday at 1:00 p.m. The game will feature annual Homecoming and Hall of Fame festivities.