"Life" returns to NBC for a second season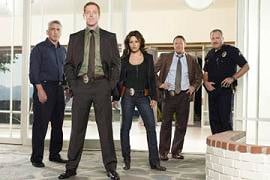 The NBC drama "Life" returns for it's second season with four all new episodes to be shown over two weeks. The four new episodes can be seen at 10:00 p.m. September 29. October 3, 6 and 10 on KHQ.
In the season two premiere, detectives Charlie Crews (Damian Lewis) and Dani Reese (Sarah Shahi) are on the hunt for a serial killer when three numbered trunks containing suffocated bodies are found scattered across Los Angeles. With their new boss New York transfer Captain Kevin Tidwell (Donal Logue) pressuring them to get answers, Crews and Reese race to find a connection between the murders before the killer strikes again. Meanwhile, Ted (Adam Arkin) and Crews attempt to track down the daughter, the lone survivor, of the family Crews was wrongly convicted of killing. Brent Sexton also stars.
The drama "Life," from Rand Ravich ("The Astronaut's Wife") and Far Shariat ("Confessions of a Dangerous Mind"), focuses on a detective who is given a second chance. Golden Globe nominee Damian Lewis ("Band of Brothers") plays complex, offbeat Detective Charlie Crews, who returns to the force after serving time in prison for a crime he didn't commit.

Crews' new lease on life has provided him with a Zen-like outlook, peace of mind and no need for vengeance, an attitude which can be challenging to maintain when someone he cares about is threatened, or when he is investigating the mystery surrounding the murder he was falsely accused of.

Lewis is joined by cast members Sarah Shahi ("Rush Hour 3") as Dani Reese, Charlie's skeptical and demanding partner; Brent Sexton (HBO's "Deadwood") as Officer Bobby Stark; Donal Logue ("Grounded for Life)" as Captain Kevin Tidwell, and Adam Arkin ("Chicago Hope") as Crew's former cellmate Ted Earley.