Playoff picture in GSL still in development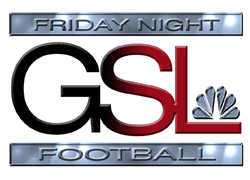 Commentary
Oh, the playoffs. That wonderful time of the year when some celebrate, some don't, and some scratch their head thinking, "how'd that happen". It could be one of those years in the GSL this year. Just consider how the postseason is shaping up.
GSL on KHQ.com
Lewis & Clark
vs.
Gonzaga Prep
Friday, Oct. 31
7:55 pm on KHQ.com
For 4A, the top 2 GSL schools will have a play-in with the Big 9 schools from the Tri-Cities to see who qualifies for the state tournament bracket. The top GSL school will play the No. 3 Big Nine school, while the leagues' No. 2 teams play each other. The GSL will either send one or two teams to the state playoffs, depending on who wins and who loses. In all, the Big 9 and the GSL are allowed three entries. No more. No less (until next year, when the combined number jumps to four, but that's another story).
So as you can see, rankings in the GSL are clearly VERY important.
As it stands today, Central Valley (7-1) and Ferris (7-1) are tied for first place and would go to the play-in with the Big 9. But hold on. Both Lewis and Clark (6-2) and Gonzaga Prep (6-2) have two losses, and remember - there's still one game left in the season.
Lewis and Clark has come on strong after their starting quarterback Taylor Eglet returned from a battle with mononucleosis. This Friday the Tigers square off against - you guessed it - Gonzaga Prep, a team that had its heart ripped out in a painful loss last week against Central Valley.
If Ferris loses to University, oh boy. Assuming LC beats Prep and CV handles Mead, Ferris would fall and LC and CV would go to the play-in because the Tigers beat Ferris two weeks ago.
And oh boy times three: if Ferris loses to U-High, LC beats Prep and CV loses to Mead, we'd have a three-way tie for first place in the GSL. LC would jump to first place because it has just one 4A loss, while Ferris would drop to No.2 because they beat CV head-to-head.
Can Prep make the playoffs? Not really, because they lost to both Central Valley and Ferris. But they can play spoiler if they beat Lewis & Clark and Ferris loses to University. In that case, Ferris would be No. 1 and CV would be No. 2.
It appears as if Central Valley and Ferris are headed to the play-in, and quite possibly the playoffs after that. Both teams have potent offenses that can score in a hurry.