Rossi concedes, Gregoire wins again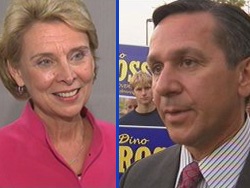 REDMOND, Wash. - Republican gubernatorial challenger Dino Rossi thanked his supporters, but conceded the race to the incumbent governor, Christine Gregoire at a press conference in Redmond Wednesday morning.
Rossi said he and his supporters ran a "fantastic campaign," running a full 10 percentage points ahead of the Republican candidate for the presidency. Rossi also talked about the many problems he says the state has to fix, reminding voters that they have the right to hold Gregoire accountable for her promises.
As for his plans for the future, Rossi said it's back to the business world. He thanked his wife and children for going on this "adventure to change the culture of state government" and said he's excited to be home for dinner tonight.
At midnight on Wednesday, several news agencies called the race in favor of Chris Gregoire after a further ballot count from both King and Pierce counties. So far, The Spokesman Review, the Associated Press, CNN, the Seattle Times, the Seattle Post-Intelligencer, and the New York Times have all reported Gregoire as the winner of Washington's gubernatorial race.
With the new numbers, most news agencies are reporting that Christine Gregoire has beaten Republican challenger Dino Rossi in her bid to serve a second term as the chief executive in Washington state.
The Rossi campaign refused to concede at first, saying the news agencies looking at the results are "jumping the gun". Campaign managers said last year's late results trended more towards Rossi, so calling the race for Gregoire is premature.
Gregoire, a former state attorney general, emerged the victor in their 2004 contest by the closest percentage margin of any governor's race in U.S. history - just 133 votes out of about 2.8 million cast, after two recounts and an unsuccessful Republican court challenge.