November 2008 Diabetes Notes
Posted:
Updated: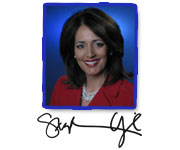 It's National Diabetes Awareness Month and I would like to take a few minutes to focus on some of the events that are happening this month to bring better awareness to controlling and preventing Diabetes.
Help Center
Mark your calendars for this coming Monday, November 10th. Members of the Eastern Washington Diabetes Network will be in the KHQ Help Center. The EWDN members and Washington State University Pharmacy Students will be answering your questions from 5pm until 6pm during KHQ Local News. The number to call on Monday, starting at 5pm, is 443-1111.
Special Diabetes Event from EWDN
But that is not the only thing happening this month. On Monday, November 24th, Eastern Washington Diabetes Network is co-hosting a special Diabetes session. Join them to learn how to live a healthier life from someone who has walked in your shoes.
That person is Greg Pfaff. He has Diabetes and will share his personal experiences and insights on how to manage it. Greg was the keynote speaker at Diabetes Day 2008 and was so popular he is being brought back for this special event.
Learn how you can participate by clicking right here.
New EWDN Resource Guide
Here is one last Diabetes note from Eastern Washington Diabetes Network. They have made a new resource guide available to you. You can learn information about community screenings, education, support groups, and research. Click here now to see the guide or visit it any time at www.khq.com/diabetes

Managing Diabetes During a Tough Economy
So many of us, are watching our pennies right now. And that economic challenge can often be even more difficult if you are trying to manage your diabetes. We found an article from the National Diabetes Education Program that addresses those challenges and offers some options, including some recipes. We provided that link for you.
Managing Diabetes During Thanksgiving
I know we are close to Thanksgiving and that is one of the hardest times to stick to a healthy diet. I came across this site that I thought I would share. It was published last year but I think the information is still valuable. Plus there are some tips and recipes to make a more Diabetic friendly feast. If you are interested in taking a look click tips on managing Thanksgiving Dinner and your Diabetes.
Coeur d'Alene Tribe Wellness Suggestion
A final note, you may be aware that the Coeur d'Alene Tribe and Casino has made a commitment to be a part of this Diabetes page. Their goal is is to educate their community and beyond about controlling and preventing Diabetes.
Judy Gordon is a Diabetes Case Manager. She works with the tribe at the Benewah Medical Center. This month she wanted to share one of her favorite websites. Judy invites you to visit www.healthfinder.gov. She says, "This is a good general health site for prevention as well as treatment of diabetes".
Thanks for the referral Judy, and to everyone who participates in this newsletter, have a wonderful Thanksgiving and take care.