Anderson earns spot in Whitworth record books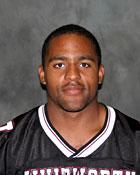 SPOKANE, Wash. -- Adam Anderson etched his name into the Whitworth football record book once again on Saturday, leading the Pirates to a season-ending 42-7 Northwest Conference win over Lewis & Clark at the Whitworth Pine Bowl.
Anderson played the first two quarters only and ran 18 times for 144 yards, caught three passes for 73 yars and scored three more touchdowns. He finishes the season with single-season school records for all-purpose yards (2,194), touchdowns (25) and points (152). Perhaps most impressively, he now has tied Bill Condon (2000-03) for career touchdowns (37) with a season to play. He finishes the season with 1,259 rushing yards, missing the Pirates' single-season record by 34 yards. Damian Putney ran for 1,293 yards in 1999.
Whitworth controlled the game from the outset, scoring on its first four possessions on the way to a 35-7 hafltime lead. The Pirates outgained the Pioneers 556-337, including a 356-133 edge on the ground.
Anderson took a screen pass from Andrew Durant (Fr., QB, Spokane, Wash.) and weaved his way 49 yards for Whitworth's first touchdown. On the next possession, Milton Nelson (Jr., RB, Spokane, Wash.) got around the left side and sprinted to the endzone from 35 yards away. Cub Jansen (Fr., QB, Mukilteo, Wash.) scored on a ten-yard draw to give the Bucs a 21-0 lead after a quarter.
Harrison Keller caught a 10 yard touchdown pass from A.J. Brown on the first play of the second quarter to pull L&C within 21-7. But the Pirates went right back down the field to score on Anderson's one yard run, capping an 80 yard drive. Anderson set up his score with a 62 yard run deep into L&C territory.
Cailen Thomason (Fr., DB, Vancouver, Wash.) returned an interception 34 yards to the Pioneer 12 yard line later in the first half and Anderson scored two plays later to give Whitworth a 35-7 lead with 21 seconds to play in the quarter.
Nelson scored Whitworth's final touchdown with a one-yard plunge with 10:35 to play in the game.
Despite Anderson's records, it was Nelson who led the Pirates with 158 yards rushing (a career high) on 18 carries. Mike Peck (Jr., QB, Longview, Wash.) played the second half and completed all six of his passes for 84 yards. Durant was 3 for 4 for 102 yards and Jansen completed his only pass for 14 yards. Anderson was Whitworth's leading receiver, while Justin Monahan (Fr., WR, West Linn, Ore.) added three catches for 53 yards.
Brown completed 23 of 40 passes for 204 points with two interceptions and one touchdown to lead the Pioneer offense. Shawn Evans was his favorite target with eight catches for 80 yards, while Keller finished with four grabs for 36 yards. Joevonte Mayes carried 17 times for 90 yards.
L&C's Jared Berglund led all players with nine tackles, while Troy Mora had eight stops. James Connelly made seven tackles and recovered a fumble.
Drew Belton (Fr., DB, Naches, Wash.) led Whitworth with eight tackles and Gabe Shoemaker (So., DT, Shelton, Wash.) made seven stops. Jesse Clark (Sr., DB, Spokane, Wash.) added five tackles and broke up a pair of passes.
Whitworth finishes the season 6-3 overall and 4-2 in the NWC. Lewis & Clark (1-7, 0-5) will finish the season at Puget Sound next Saturday.