Chiefs defeat Tri-City 4-3 in shootout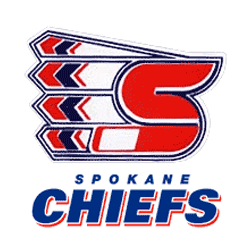 Spokane, Wash.-- Stefan Ulmer's shootout goal in the sixth round proved to be the difference over the Tri-City Americans on Saturday night as the Chiefs earned a 4-3 shootout in front of 9.630 fans in the Spokane Arena. Ulmer's shootout goal complimented his three assists and helped him earn first star honors.

Tri-City scored the only goal in the first period as the Americans held Spokane to just one shot on goal through 20-minutes. Taylor Procyshen redirected a Kruise Reddick shot at 14:45 to take a 1-0 lead.

Spokane's Drayson Bowman tied it up at 3:16 of the second with a snap shot from the slot. The Americans took a 2-1 lead into the second intermission after Reddick's power play goal at 14:37 of the period.

The Chiefs entered the third period with a power play chance and Mitch Wahl cashed in as he took a rebound of an Ulmer shot and buried it from the left circle.

Seth Compton put the Chiefs ahead 3-2 as he tucked a power play goal in from the left post at 17:43.

The Chiefs were assessed two penalties with exactly two minutes remaining, a delay of game for shooting the puck into the stands and a bench minor for unsportsmanlike conduct. After Chet Pickard left the ice for an extra attacker, the Americans tied the score with 27-seconds remaining.

Each team had three shots in overtime and Spokane had one of their four power play chances in the extra period.

Wahl scored for Spokane in their first try and Mitch Fadden made it 1-1 after two shooters for Tri-City. Neither team tallied until Ulmer's attempt squeaked through Pickard's pads.

Tri-City outshot Spokane 35-20.

Spokane is now 3-1 in their five game home stand and will host the Lethbridge Hurricanes on Wednesday night before they head for their Eastern swing.
The first 1,000 fans through the gates on Wednesday, and all full season ticket holders in attendance, will receive a collector's edition magnet courtesy of TicketsWest.