Jets really taking off — and it's more than Favre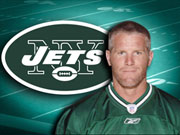 by Rich Cimini, NBCSports.com contributor
Check out a couple of the Jets' recent scores: 47-3 and 56-35. Wait a second. Is Joe Namath still throwing bombs to Don Maynard? Are we wearing bell-bottom pants and tie-dye shirts? Is it true that an astronaut is going to walk on the surface of the moon? Did you hear about the wild concert at Woodstock?

No, you're not in a 1969 time warp, but it sure seems that way around the Jets these days. The team that scored only 47 points in the final four games of the 2007 season is now averaging 28 per game, a 453-point pace that would shatter the franchise record.

Two questions: What's going on here? Are the Jets for the real?

The answer to the latter is no, the Jets haven't become the NFL's nouveau-riche offense. They're good, and getting better, but those crazy numbers are mostly the byproduct of a soft schedule.

They stamped 56 on the Cardinals, who committed six turnovers and played without their best defender, safety Adrian Wilson. They just hit the Rams for 47, running through an awful defense that should be fined $7,500 apiece for conduct detrimental to the game of football.

We'll learn a lot about the Jets Thursday night, when they will face their arch-rival Patriots in a first-place showdown between two 6-3 teams. They never score much against the Patriots - 12 straight games under 22 points - so this, in many ways, will be the ultimate test for Brett Favre & Co.

Favre, of course, is new to the rivalry. When he faced the Patriots in Week 2, a 19-10 loss, he still was learning the nuances of the Jets' offensive playbook. Because of his unfamiliarity, he was kept on a tight leash in that game, hardly resembling the Favre that has entertained football fans for nearly two decades.

Funny, but we've come full circle. After that early loss, Eric Mangini gradually loosened up, letting Brett be Brett. For the coach, it was like a wild ride on Coney Island's famous Cyclone roller coaster. The interceptions started, and they wouldn't stop, as Favre threw seven in a three-game span. But he was throwing touchdowns, too - he's up to 15 - creating the all-or-nothing mentality.

It was Gunslinger Brett.

"Don't hit on 20," said Mangini, relating what he told Favre behind closed doors. "Sometimes it's OK to stay and see what the dealer has."

Favre got the message.

In the last two games, Favre hasn't hit on 20. Or 19. Or 18. Not even 16. He's turned into Game-Manager Brett. And that's OK. It's more than OK. If the Jets hope to continue this run, make the playoffs and do some postseason damage in the wide-open AFC, they need Favre to play conservatively (for him) and pick his spots.

Some might argue that it's foolish to turn Favre into a dink-and-dunk passer - that would've been like making Jackson Pollack paint by numbers - but anybody who has watched the gray gunslinger knows that he isn't the same. Sure, he still has a top-5 arm, but some of his throws in recent weeks have lacked their usual velocity.

It has fueled speculation that his right shoulder is hurting, although Favre insists it's nothing more than a case of the 39s - his age. On the morning of Sunday's rout of the Rams, he struggled to get out of bed, his old joints begging for a day off. And that was after seven days rest. Fortunately for the Jets, he had to throw only 19 passes that day.

The Jets thrived because the parts around Favre - running back Thomas Jones, the high-priced offensive line and speedy rookie tight end Dustin Keller - are getting better. They don't have the playmakers on the perimeter to be a wide-open passing offense, but between Jones and mighty mite Leon Washington and a clever passing attack, the Jets have the potential to control games.

In the offseason, they doled out big bucks to left guard Alan Faneca (five years, $40 million) and right tackle Damien Woody (five years, $25 million), giving them four former first-round picks on the offensive line. There were some rough patches early in the season, the lowest moment occurring against the Patriots - a goal-line sequence that blew up on the Jets. Taking the ball out of Favre's hands, they tried three inside handoffs and got stuffed.

It was three runs and a cloud of nothing. Since then, the line has improved. Ditto, Jones. Ditto, Keller. So has the playcalling. After spending a month or so on the wild side, letting Favre chuck it around the place, the Jets finally have discovered an identity.

They don't need Favre to be Namath. But that doesn't mean the Jets can't party like it's 1969.

© 2008 NBC Sports.com

For more Football coverage, visit NBCSports.com.