Ferris tromps Jackson, sets up rematch against Central Valley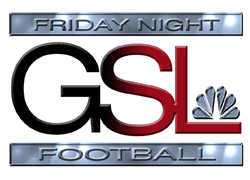 SPOKANE, Wash. - If anyone doubted the strength of the Greater Spokane League this year in football, let them doubt no more. The Ferris Saxons outran, outpassed and outplayed the Jackson Timberwolves Saturday afternoon, beating the team from the west side 24-7.
Junior quarterback Connor Halliday stole the show, running for nearly 50 yards and throwing for 151. He tossed 3 touchdown passes, and didn't throw a single interception. He fumbled twice, one of the fumbles falling on the Jackson goal line.
Halliday picked the Timberwolves' defense to pieces, finding Garrett Saiki 6 times, as Jackson keyed in on the senior sensation Aaron Roberts, holding him to just 2 catches (although those two catches went for 47 yards). And when Halliday couldn't find a receiver, he ran through big holes in the defensive front.
The Saxons started slowly, finishing the first quarter with a small 3-0 lead. They scored their first touchdown with 7:42 remaining in the second quarter when Halliday found tight end Jason Bates in the end zone for a 28 yard strike.
The Timberwolves couldn't seem to start their offensive engine for whatever reason. Their top two running backs, Riley Carr and Taylor Cox traded the majority of the carries, but neither could find much running room, as Ferris' defense proved to be too quick and strong.
Rarely did Jackson quarterback Andy Gay give the Ferris defense any reason to take players out of the box. He had just two completions for more than 6 yards until the beginning of the fourth quarter. The Saxons all but shut the Timberwolves' passing game down until the closing minutes of the fourth quarter when Gay erupted for more than 100 yards passing. But by the time Jackson stepped up the tempo, it was too late.
Ferris goes on to play a familiar team: Central Valley. The Bears beat Southridge 28-14 in Tri-Cities. The quarterfinal game will be played either at Joe Albi Stadium or at Central Valley. We'll keep you posted as information becomes available.